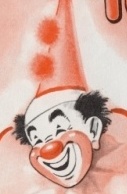 For some decades now, at more or less random times and in more or less random places, I've been asking people "Why would you care if your baby's name reads the same upside down as rightside up?". I have never gotten an answer that rang true.
One of the various unsatisfactory answers I keep getting is something like: "Umm. You wouldn't care." But I know that's wrong, because I've read Clown Town.
Clown Town was my most favorite book since before I could read. Fortunately for the various adults who were called upon to read it to me morning, noon and night, I managed to memorize it before I could even read it myself. The key dilemma faced by the residents of Clown Town is what to name the baby. The day is saved by the baby's father, who invents the name "pood", which, of course, is perfect, because it reads the same in both directions.
In my memory, I was an exceptionally dull and unquestioning child (I remember asking exactly one intelligent question in my first ten years on this earth; unfortunately my parents couldn't figure out what I was asking, so I figured there was no point in ever asking another) but even I could see that there was a gap in the reasoning here. I remember being bothered by it then, and I've been bothered by it ever since.
Fast forward to the modern age, when my increasingly internet-savvy parents managed to find me a copy of my beloved book. (Of course, it might have been better to just not throw it out in the first place, but I'll take what I can get.) And I just reread the story (as can you if you follow the link). And here's what I found out:
ALTHOUGH I READ THIS BOOK 94,578 TIMES AS A CHILD, I MANAGED TO MISS THE ENTIRE POINT EVERY SINGLE GODDAM TIME.
Because, you see, here's what actually happens in this story: The town meets to discuss a name. The schoolmaster shows up to record the proceedings. But he insists on writing all the names upside down on his blackboard, making them entirely indecipherable to the masses. He does this, basically, just to be a dick. (It's been suggested that this part of the story might have had a formative influence on my personality.) But the child's father saves the day by inventing the name "pood" which utterly defeats the schoolmaster's diabolical joke.
It took awhile, but I get it now. My next project is to reread Jack and the Beanstalk.