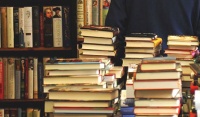 Tyler Cowen started a blogospheric whirlwind recently when he posted the list of books that had influenced him the most and called on other econ bloggers to do the same. In short order, we got entries from Peter Suderman, E.D. Kain, Arnold Kling, Michael Martin, Niklas Blanchard, EconJeff, Bryan Caplan, Matt Yglesias, Jenny Davidson, Will Wilkinson, Matt Continetti, Ross Douthat, Mike Konczal, Kieran Healy, Ivar Hagendoorn, Scott Sumner, and no doubt others. [Update: Some of these links were wrong; I think they're all fixed now.]
I'm late to the party, but here's my list:
Notably absent from this list is Derek Parfit's Reasons and Persons, which I have somehow never read front-to-back though it's been fifteen years since Tyler told me it's a must-read. I haven't done a careful count, but I believe that Parfit is the most frequently mentioned book on the lists cited above. I really must get to it.
Do share your own lists.