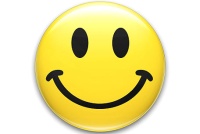 In a New Yorker essay, Elizabeth Kolbert takes at face value the widely reported statistic that "the average level of self-reported happiness, or subjective well-being, appears to have been flat going all the way back to the nineteen-fifties, when real per-capita income was less than half what it is today". Proceeding from the assumption that these self-reports tell us something about actual happiness, Kolbert, proceeds to muse on the policy implications, quoting ex-Harvard president Derek Bok with approval:
If rising incomes have failed to make Americans happier over the last fifty years, what is the point of working such long hours and risking environmental disaster in order to keep on doubling and redoubling our Gross Domestic Product?
Wait a minute, now. Self-reported happiness has been flat for fifty years despite rising incomes. Self-reported happiness has also been flat for fifty years despite dramatic increases in leisure and environmental quality. (Since 1965, the average American has gained about six hours a week of leisure—the equivalent of seven vacation weeks a year.) So why aren't Bok and Kolbert asking why we bother to come home from the office, take vacations, and clean our air and water?
Either you take this happiness stuff seriously or you don't. If you do, you can't just pick and choose the policy implications you happen to like. If these numbers mean we have nothing to gain from earning more, then they also mean we have nothing to gain from working less.
As for me, I don't have to worry about the policy implications because unlike Kolbert, I don't think self-reported happiness tells us anything at all about actual happiness. If a pollster asks me "Are you happy?", the question I'm going to answer is "Are you happier than your friends seem to be?". Regardless of the ambient level of happiness, about half of us will always answer "No".
A colleague of mine observes that the average American man is about 2 inches taller than a hundred years ago. But you'd never learn that from a survey that asks people "Are you tall?". That's because a 5'9″ man would probably have answered "yes" a hundred years ago and "no" today. And likewise, people might be far happier today than a hundred years ago, but you'd never learn that from a survey that asks "Are you happy?"
It's downright dangerous to give credence to this sort of nonsense. It leads people like Kolbert to observe that Nigerians, with a per capita income of fourteen hundred dollars, rate themselves as happy as the Japanese, with twenty five times the per capita income. Kolbert, channeling public policy professor Carol Graham, entertains several possible explanations (maybe Nigerians have "happy DNA"; maybe the Japanese strive harder because they are malcontents; maybe people learn to adjust to living on a few dollars a day), but never manages to stumble on the most obvious explanation of all—maybe poor Nigerians say they're happy because they've never seen how happy it's possible to be. And maybe raising their incomes could help with that.