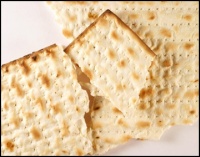 It is the season of both Lent and Passover, which means that for Christians and Jews it is the season of making small but pointless sacrifices. This always strikes me as mildly tragic. If you're going to sacrifice your pleasures in order to feel virtuous, why not at least do it in a way that helps someone? Instead of giving up meat or leavened bread, donate a few hundred dollars to a worthy cause.
[Before you tell me that giving up meat is socially beneficial because it holds the price of meat down, remember that low prices are good for buyers only to exactly the same extent that they're bad for sellers. Changing a price does no net good. The rigorous proof of this is part of the theory of pecuniary externalities, on which the Wikipedia entry is uncharacteristically useless.]
Observing Lent or Passover has much in common with things like running around a track: You push yourself to do something hard, you feel good about it, and you leave the world pretty much the way you found it. What a shame that you didn't push yourself to do something useful instead. I bet you could have learned to feel almost as good about that.
The two tragedies have very different micro foundations. Athletic events are wasteful essentially because they're arms races; the winner succeeds only by preventing others from succeeding. (I posted about this here and here.) On Passover, by contrast, we can all be equally successful at sticking to the same ridiculous diet. So athletic competitions and religious observance are tragic for fundamentally different reasons, even though they're tragic in the same way.