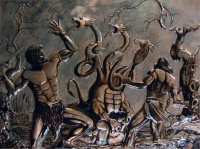 Yesterday I answered one of Coupon Clipper's questions about Godel's Theorem. Today I'll tackle the other: Does Godel's Theorem matter on a day-to-day basis to practicing mathematicians?
And the answer is: Of course not. Mathematicians care about what's true, not about what's provable from some arbitrary set of axioms. (Of course this is an overgeneralization; some mathematicians have built distinguished careers on worrying about what's provable from various sets of axioms. But they are a small minority.) Godel's Theorem says that not all true things are provable. But for the most part, we're happy just to know they're true.
The flashiest example I can give you—and one I've used on this blog before—is Fermat's Last Theorem, which says that no equation of the form xn + yn = zn has any solutions, as long as n is at least 3 and x, y and z are non-zero. Proving this was the was most famous unsolved problem in mathematics for 350 years until it was solved (to much public fanfare) by Frey, Serre, Ribet and Wiles in the 1980′s and 1990′s.
We know from that work that Fermat's Last Theorem is true. However, we still don't know whether Fermat's Last Theorem follows from the standard axioms for arithmetic. And—this is the point—very few mathematicians care very much, at least by comparison to how much they care about the theorem itself. (Here is one of my favorite papers on the subject. Tellingly, the author is a philosopher.)
In Chapter 10 of The Big Questions, you'll find a description of a game called "Hercules versus the Hydra". It turns out that Hercules always wins the game, no matter how stupidly he plays. This fact (that Hercules always wins) is known to be true and known to be unprovable from the standard axioms. Fermat's Last Theorem, by contrast, is known to be true and might or might not be unprovable from the standard axioms. If that question gets settled, most mathematicians will be interested enough to sit up and take notice. But unlike the Last Theorem itself, few are motivated to work on it.