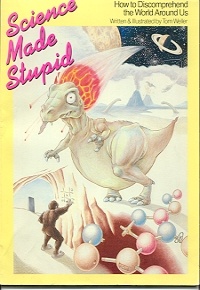 My treasured copy of the humor classic Science Made Stupid, copyright 1985, contains a Wonderful Future Invention Checklist. Who in 1985 would have thought that just 25 years later, I could check off a third or so of the entries?
Househould Robot. Does my Roomba count?
Magnetic Train. Check.
Flat-Screen TV. Check.
Flat-Screen 3-D TV. Check.
Two-Way Wrist Radio. We are so far past this.

Two-Way Wrist TV. Ditto.
Intelligent Computer. My computer's a lot smarter than it looks, honest. It just acts dumb when it has to run Microsoft products.
Instant Access to All Human Knowledge. Check!
Human Clones. Getting there.
First Woman President. Does Secretary of State count?
First Black President. Check!!
Universal Language. That would be English.
X-Ray Specs. My infrared camera sees through clothes.
World War III. By some accounts, we're about 9 years into it.
Access to Other Dimensions. Talk to the string theorists.
Immortality. Check?
Spelling Reform. OMG! I cn chk ths 1 off 2.
Some of the other entries, like "Home Holographs", "Personal Rocket", and "My Trip to Other Galaxy" might be a bit farther off. But things sure change in a hurry.
What else about your current life do you think would most surprise a time traveler from 25 years ago?