Last week I posed this problem:

Several commenters did a wonderful job of explaining the answer. Let me just add a few words on the issue of "How can Tuesday be relevant?"
If the Tuesday part weren't there, the problem would be easy. With two children, there are three equally likely ways to have (at least) one boy: The children in birth order might be Boy/Boy, Boy/Girl, or Girl/Boy. That gives a 1/3 chance of Boy/Boy.
So what does "Tuesday" have to do with it? Answer: Having (at least) one Tuesday boy is a lot more likely when you've got two boys than when you've got only one. So among those moms with a Tuesday boy, the Boy/Boy moms outnumber either of the other types. The three possibilities aren't equally likely anymore.
It might help to see a picture. To make the picture fit on this page, I assumed there are only two days in the week — Tuesday and Friday: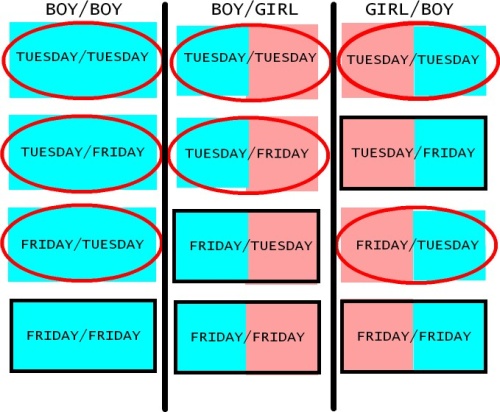 There are twelve ways to have at least one boy, and of those 12, there are 4 ways to have Boy/Boy. That, as we expected, is 1/3 of the sample. But now let's focus in on the moms with a Tuesday boy. That eliminates half the moms in the second and third columns (leaving only those with red ovals around them) but eliminates only a quarter of the moms in the first column.
We're left with 7 kinds of moms, 3 of which are Boy/Boy. So the probability our mom has two boys is 3/7.
With a seven-day week, you'll have 49 rectangles in each column. The "Tuesday" condition leaves only 7 rectangles in each of the second and third columns, but leaves 13 in the first. So there are 13+7+7=27 rectangles altogether, of which 13 are Boy/Boy. The answer is 13/27.