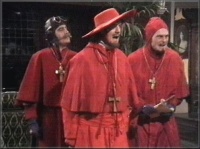 People are dying so that you can read this blog. Your internet access fees could more than double the income of a $400-a-year Ghanaian laborer. People are starving to death, and there you sit, with resources enough to save them (and with reputable charities standing by to effect the transfers), padding your own already luxuriant lifestyle. That's a choice you made. It's a choice almost everyone in the First World makes. It might or might not be a horrific choice, but it's one for which we easily forgive each other.
(Do you already give money to Ghanaian laborers? I applaud you and I wish others would do the same. But it doesn't change the fact that other Ghanaian laborers are dying so you can have your Internet.)
Someday you might find yourself strolling through a desert with a bottle of water and stumble on a man dying of thirst. I bet you'll offer him some water, and I bet you'd think much less of anyone who didn't. But there is, as far as I can see, no important moral difference between surfing the web while Africans starve and strolling through the desert while men die in front of you.
I said there's no moral difference, which is not the same as saying there's no difference at all. We evolved to be callous towards those who are distant (or invisible) and kind toward those who are close. (Robin Hanson posts frequently and insightfully on the contrast between how we treat the near and the far.) It's pretty clear why there might be an evolutionary advantage to behaving that way. If you've got a reputation for helping your friends and ignoring strangers, then more people will want to be your friends. So it pays to favor the close and the visible. Our emotions are wired that way, and there's probably not much we can do to change it. Attempts to change human nature do not have a good historical success rate.
But. But. The principles that guide our individual choices are not always the principles that should guide our policy choices. When it comes to spending public funds, we instinctively continue to favor the visible, even though we might all have preferred to be born into a world where the invisible count equally.
Imagine a miner trapped in a mine. It will cost thirty million dollars to get him out. With that thirty million, we could build a guardrail that will save three lives. We've seen the miner's face on the news; we've seen his family; we know his name. All of our instincts — the same instincts that let us ignore those Ghanaian laborers — tell us to save the man we know and ignore the three we don't know. Those, I think, are bad instincts. Anyone with amnesia — anyone, that is, who is forced to take an unbiased view of the situation — would want us to save three lives rather than one. (Because each of us, in a state of amnesia, has triple the chance of being saved by a guard rail.)
It's no use saying we should both build the guardrail and save the miner; that only raises the question of whether we ought to build two guardrails instead of one.
It's also no use pretending, as some economists would, that you can dodge this issue by inventing jargon. Those economists love to talk about the distinction between "identified lives" and "statistical lives". But naming something does not change its nature. Inventing a phrase is not the same thing as having an insight. All these phrases do is restate the issues we've already visited. (In Chapter 22 of The Big Questions, there's a much longer passage detailing all the ways in which the distinction between identified and statistical lives is incoherent.)
(The miners currently trapped in Chile are, most thankfully, not a good example of miners who ought to be abandoned. As far as I can estimate, the cost of getting them out is quite entirely reasonable and well within the bounds that an amnesiac would approve.)
If this sounds all wrong to you, keep in mind that people die all the time just so we can live slightly more luxurious lifestyles. It's not just the guy in Ghana. We have the option of spending more than we do to make the world a safer place. The world lacks guardrails not just so we can spend money rescuing miners; it lacks guardrails so you and I can drink better wine. It would be easy to save more lives if we were willing to reduce the quality of life — but we've chosen not to do that. We'd rather face a higher risk of death so we can afford to live a little better.
We've made the decision to kill people (in Ghana and on winding mountain roads) so you can have faster Internet service. Given that, how can it be grisly to kill one person (e.g. that trapped miner) so we can actually save more lives (e.g. with a guardrail)? (I'm sure that Alex Tabarrok has made the same point often and brilliantly.)
All of which brings me to why I wrote this post. Last week we had a discussion about the efficiency criterion. A few days ago, I followed up by applying the criterion to the hardest of cases — Bill Gates walking through the desert and refusing water to a dying man. (This is of course fiction; I expect Bill is one of the least likely people on the planet to behave this way.) The point of that post (which I hope did not get lost in all the verbiage) is that this is one of the rare cases in which the efficiency criterion doesn't work very well, owing to the big discrepancy between Willingness to Pay and Willingness to Accept.
But today's point is a different one: Even if the efficiency criterion did unambiguously recommend that Bill keep his water (which in fact it does not), that's not actually so horrible by the standards we apply to ourselves every day. The only difference is that we kill the distant, whereas in this scenario, Bill kills the nearby. That might quite reasonably make us want to stay out of Bill's way, and tell ourselves we want nothing to do with him. But at the level of policy, where we really ought to care about everyone, it's just not signficantly more horrible than what we accept all the time.
As I said, the efficiency criterion doesn't really apply to Bill in the desert. But it does tell us to abandon the miner. We instinctively recoil from that recommendation, which is exactly why we need the efficiency criterion. Our strongest instincts are not always our best instincts. I like the efficiency criterion because it insists that we face the hard choices.