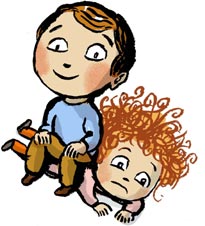 Back in 2003, I reported (here, here and in more detail here) that in disparate cultures around the world, from the U.S. to Kenya and from Mexico to Vietnam, parents of daughters are more likely to get divorced. This phenomenon, discovered by the economists Gordon Dahl and Enrico Moretti, is based on a sample size over 3 million and is therefore surely no coincidence.
After seven years, psychologist Anita Kelly, writing in Psychology Today (which might want to consider changing its name to Psychology Yesterday) has penned a response. She accurately summarizes the original argument:
Dahl and Moretti have summarized attempts to explain their facts as follows: Sons may either improve the quality of married life or worsen the pain of divorce (perhaps by becoming more distraught when the father leaves). Landsburg chooses the former explanation based on the fact that parents, on average, prefer having boys over having girls.
Kelly offers an alternative explanation:
wives with daughters are less likely to stay with their husbands because they know that with a girl, they'll never be lonely or without help. Thus, they may be less willing to tolerate any bad behaviors from their husbands (and less willing to stay married) because they don't need their husbands as much. This idea could even explain why couples expecting a girl are less likely to marry: A woman carrying a girl anticipates that she won't need a husband.
Well, maybe. But this still tends to founder on the fact that parents seem to prefer boys in the first place. We see this most dramatically in the fact that unmarried couples expecting a child are more likely to get married if the child is a boy. And parents of girls are quite a bit more likely to try for another child than parents of boys (this effect is seen in every culture). If girls were such a potential source of comfort, you might expect to see more parents striving for girls in the first place.
It's true that adoptive parents show a preference for girls, but that, paradoxically, is evidence that parents in general prefer boys. When you're adopting, your primary concern is to get a bright and healthy child. But if most parents prefer boys, then boys will tend to be put up for adoption only when there's something seriously wrong with them, while girls will sometimes be put up for adoption simply for being girls. So adopting a girl (even if you'd really prefer a boy) can be a good strategy for avoiding the lemons.
In view of the apparent statistical preference for sons, it's pretty hard to argue that daughters cause divorce by making divorce less painful. Hard to argue — but not impossible. In More Sex is Safer Sex, I offered the alternative theory that parents of boys are more likely to stick together because boys, more than girls, depend on wealth to attract mates, and therefore suffer more when their inheritances are diluted by expensive divorces. That would explain the divorce statistics, and would also explain why parents of boys are less likely to try for another child, without invoking a preference for boys.
Though Kelly herself accepts that daughters cause divorce, some commenters have been more skeptical, and not always unreasonably. The correlation between daughters and divorce is surely no coincidence (because of the enormous sample size). But that doesn't necessarily make it causal. Maybe divorce somehow retroactively causes daughters, in the sense that less compatible parents are somehow more likely to produce daughters in the first place. Or maybe some third factor intervenes. For example, there's some evidence that high status parents are more likely to produce boys and that stressed parents are more likely to produce girls. It's not implausible that high status might tend to preserve marriages and/or that stress tends to, well, stress them.
The problem with those explanations is that, while they work in the right direction, they're quantitatively implausible for reasons I explained in More Sex is Safer Sex. I'll repeat my conclusion:
If stress and status can't explain the numbers, we're back where we began: Daughters really do cause divorce. When I reported as much in Slate, a distressing number of readers wrote to inform me that, evidence be damned, they would simply never believe that the children's gender could be relevant to a divorce decision. My favorite of these came from a therapist in Iowa — it would
be inappropriate to mention her name, so let's just call her "Bozo the Therapist" — who took me to task for subscribing to the "archaic notion" that children ever have anything to do with divorce. Unless she's been practicing not in the state of Iowa but on the planet Iowa in some distant solar system, Bozo must win the prize for the least observant therapist in human history.