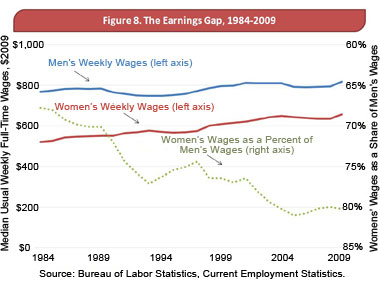 The AFL-CIO is calling for passage of the Paycheck Fairness Act to close the wage gap between men and women, a problem they say is increasingly urgent, with the above graph as Exhibit A. Get a load of that plummetting dotted gray line!
Now have a look at the right hand axis, which the perpetrators have conveniently drawn upside down for no apparent reason other than the obvious dishonest one.
This has to win some kind of prize for flagrant abuse of statistics. Do you have another candidate?
A hat tip to Patrick, who wanted to be thanked by first name only.