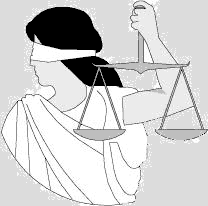 It's been "reasonable doubt" week here at The Big Questions. We've talked about recognizing reasonable doubt when you see it, about what the standard should be, and about what the standard for determining the standard should be.
This raises the question: What is the standard? Here's the weird part: Nobody knows. The judges won't tell you and neither will the legislators. If you're on a jury, you're on your own.
Now you might say that that's a fine thing. We want to leave it to jurors to set this standard. Under that theory, a juror has two separate questions to answer. One is "How doubtful am I?" and the other is "How much doubt counts as reasonable?". But I don't believe anyone actually subscribes to that theory.
Here's why I say that: Suppose that in a murder trial, the foreman of the jury reports back to the judge that the jurors have agreed that there's a 15% chance the defendant is guilty, and that they consider 15% to be beyond a reasonable doubt. Therefore they have unanimously voted to convict. I am not a lawyer, but I will cheerfully bet you that in any such case, the judge would throw the conviction out in a hurry, on the grounds that 15% is not at all beyond reasonable.
In other words, the judge does not subscribe to the theory that it's entirely up to the jurors to set the reasonable doubt standard. Moreover, the judge would throw out the verdict at 16% or 17% or 18% and so on up to …. what? Well, up to some number. That number is a standard that the judge is prepared to enforce. What is that number? I bet the judge won't tell you. The question is: Why not? Why doesn't the judge say something like "You should convict if you are at least 90% certain the defendant is guilty"?
Now you might respond that it's often very difficult to be sure whether you're more or less than 90% certain of something. I agree with that. But it's also very difficult to be sure whether your doubt is more or less than "reasonable". So jurors have a difficult job either way. But it's easier to solve one hard question ("How doubtful am I?") than to solve two hard questions ("How doubtful am I?" and "Is that a reasonable amount of doubt?").
90% is a target. It's often hard to know whether you've hit the target, but life is easier when you at least know what you're aiming at.
Ideally the standard should come from the legislature, which, after all, is tasked with deciding matters of public policy. If we're getting too many false convictions, the standard can be raised, and if we're getting too many false acquittals the standard can be lowered. But the decision about what constitutes "too many" is a political decision, and therefore should, I think, be made by elected politicians.
Instead, the politicians shirk their duty and hand off this key decision to the judges, who in turn keep their standards a secret. Why? I strongly suspect it's primarily to make the jury's job as hard as possible so as to drag out the deliberations and make more work for judges. Judges may not be consciously aware of this motivation, but people in pretty much all walks of life are remarkably good at rationalizing crazy policies that just happen to have the side effect of making them more employable. Why else would they handicap the jury this way?