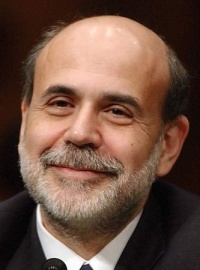 Some Q&A about quantitative easing, with a somewhat higher ratio of economics to cartoon characters than we had yesterday:
What is this quantitative easing stuff? What exactly is the Federal Reserve (a/k/a "the Fed") doing?
They're creating 600 billion new dollars and using those dollars to pay down the government's debt.
They're paying down the debt? I thought they were buying bonds.
It's the same thing. Last year, Huey McDuck lent the government a dollar and received a bond. (A bond is the same thing as an IOU.) Today the Fed buys Huey's bond. Now the government owes a dollar to the Fed instead of to Huey.
But the government still owes someone a dollar!
Well, yes and no. Unlike Huey, the Fed is subject to a 100% tax on profits. So the government can pay its one-dollar debt to the Fed and then turn right around and swoop that dollar back up again. That's just as good as not owing anything in the first place.
So in effect, the Fed is reducing the debt by 600 billion dollars. Does this mean taxpayers will have to cough up 600 billion fewer dollars in the future?
Yes.
Sounds like magic! Why don't they just do this over and over again until all the debt is gone?
Because there is no such thing as magic. You can't make the world a richer place just by creating dollars. Dollars are claims on wealth, but they're not wealth. You can't eat them, you can't drive them, you can't live in them. Paying down debt makes the taxpayers richer. But in order for taxpayers to get richer, someone else has to get poorer — unless the Fed finds a way to create real wealth. And that's not so easy.
Okay, then. Who gets poorer?
When the Fed buys Huey's bond for a dollar, Huey goes out to buy a blueberry muffin. This (ever so slightly) bids up the price of muffins and so (ever so slightly) reduces the value of everyone else's money. Or maybe Huey lends that dollar to his cousin Dewey, who buys a muffin, or maybe the dollar takes a more circuitous route. But sooner or later someone tries to spend it, drives up a price, and drives down the value of existing money. We can even figure out the size of that effect: Since the taxpayers got a dollar richer (through the reduction of the national debt) and since the world as a whole is neither richer nor poorer, the moneyholders must have gotten exactly a dollar poorer. Do that 600 billion times and the taxpayers will be 600 billion dollars richer and the moneyholders will be 600 billion dollars poorer.
Aren't the taxpayers and the moneyholders largely the same people?
Largely, but not completely. Bill Gates pays a lot of taxes, but he might not hold a lot of money. Odds are most of his wealth is tied up in other assets, like Microsoft stock.
Are there any other downsides to all this?
Yes. The taxpayers are relieved of a 600 billion dollar debt burden. That's 600 billion dollars worth of good. The moneyholders see the value of their money reduced by 600 billion dollars. That's 600 billion dollars worth of bad. So far, at least from the perspective of the-world-as-a-whole, that washes out. But there are additional costs. For one thing, people will scurry around trying to convert their money into other assets so they're not holding money when it loses value. That's a lot of effort that serves no real social purpose. For another, it's harder to do financial planning when the value of the currency is subject to unpredictable change. So on balance, the world is actually a poorer place.
Well, that's terrible.
Compared to what? In the absence of this Fed action, we'd still have to pay that debt off someday. We'd do it by raising $600 billion in taxes — with all the accompanying disincentive effects. That's kind of terrible too. It's not clear whether the Fed's action is better or worse than the alternative.
Are there any ways in which printing dollars can enrich the world?
Well, maybe, if people are sufficiently idiosyncratic. Take Huey's Uncle Scrooge, for instance. Unlike Huey, who (like most of us) values money only for what it can buy, Scrooge values money as a thing in itself: He likes to fill his vault and swim in it. I said earlier that dollars aren't wealth because you can't eat them, drive them or live in them. But they're wealth if you like to nuzzle them. Buying bonds from Scrooge increases the world's stock of nuzzlables, and that makes the world a richer place.
Where does the extra wealth go?
Well, not to Scrooge, really, because he's got to trade away his bonds to get those beloved dollars. But consider: When the Fed buys Scrooge's one-dollar bond, it retires a dollar of debt and makes taxpayers richer — just like buying Huey's bond. But Scrooge, unlike Huey, never spends his new dollar. So prices never get bid up and our money retains its value. That's a gain for the taxpayers at no cost to anyone. By creating something of value — a dollar for Scrooge to cherish — the Fed can make the taxpayers a dollar richer at no cost to anyone.
So buying a bond from Huey means paying down the debt at the expense of the moneyholders, while causing some auxiliary damage that might or might not be greater than the auxiliary damage you'd cause if you tried to pay down the debt some other way. But buying a bond from Scrooge means paying down the debt at no expense to anyone.
Correct.
Sounds like we need more Scrooges! Do they exist outside of comic books?
Probably not too often. More's the pity.
Anything else we should know?
Keynesian economists (like Paul Krugman) have various theories about how buying bonds from guys like Huey could help get us out of the recession. I'm skeptical of those theories, though you should treat my skepticism with a grain of salt, because I am not really an expert on macroeconomics. (Though neither, come to think of it, is Paul Krugman.) But even if those guys are right, I'm largely unimpressed, because I don't think recession fighting is a terribly important goal compared to enriching the world in the long run. And as far as that goal goes, I think I've covered the key issues here, though I'm sure readers will let me know if I've left something out.