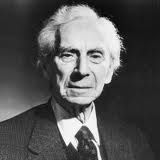 Bertrand Russell, that most rational of men, was nonetheless plagued by intermittent depression and the occasional nightmare. Including this one, as reported by Russell's confidante, the mathematician G.H. Hardy:
[Russell] was in the top floor of the University Library, about A.D. 2100. A library assistant was going round the shelves carrying an enormous bucket, taking down books, glancing at them, restoring them to the shelves or dumping them into the bucket. At last he came to three large volumes which Russell could recognize as the last surviving copy of Principia Mathematica. He took down one of the volumes, turned over a few pages, seemed puzzled for a moment by the curious symbolism, closed the volume, balanced it in his hand and hesitated….
Principia Mathematica, to which Russell had devoted ten years of his life, was his (and co-author Alfred North Whitehead's) audacious and ultimately futile attempt to reduce all of mathematics to pure logic. It is a failure that enabled some of the great successes of 20th century mathematics. And — the first volume having been published in December, 1910 — this is its 100th birthday.
Having determined to write the Principia ten years earlier in 1900, Russell was at first stymied by his discovery of the famous paradox that now bears his name: Consider the set of all those sets that don't contain themselves. Call this set R. Does R contain itself? If so, it belongs to the set of all sets that don't contain themselves, and therefore does not contain itself. Does it fail to contain itself? If so, it fails to belong to the set of all sets that don't contain themselves, and therefore contains itself. Either way, something's screwy.
The Russell Paradox suggested that set theory was too shaky a foundation on which to build the edifice of mathematics, and Russell realized that the first thing he needed to do was shore up that foundation — a task that led to months, and then years, of staring at blank pages with no idea of how to proceed:
At first I supposed that I should be able to overcome the contradiction quite easily, and that probably there was some trivial error in the reasoning. Gradually, however, it became clear that this was not the case…It seemed unworthy of a grown man to spend his time on such trivialities, but what was I to do?
Russell's ultimate solution was his Theory of Types, which (some would say artificially) limits the ways in which you're allowed to define a set — and in particular prohibits you from defining the set R in the first place. It was clunky and ad hoc and many found it profoundly unsatisfactory, but it worked.
There were other problems, too. Russell wanted to derive all of mathematics from pure logic, but there was one mathematical fact that defied his every effort — namely the fact that there are infinitely many natural numbers. Surely this is a mathematical fact, but does it follow from purely logical considerations — or is it just something that happens to be true without being logically necessary? In the end, Russell punted, taking the infinitude of the natural numbers as an (essentially non-logical) axiom. Here was the first hint that maybe mathematics is more than just logic after all.
Once he had solved these problems — or, on a less charitable interpretation, decided how he was going to weasel his way around them — Russell spent the years from 1907 through 1910 working on the manuscript, ten to twelve hours a day, eight months a year. He worked, of course, with the technology of the time, with all of its attendant dangers and inconveniences:
The manuscript became more and more vast, and every time that I went out for a walk I used to be afraid that the house would catch fire and the manuscript get burnt up. It was not, of course, the sort of manuscript that could be typed, or even copied.

When we finally took it to the University Press, it was so large that we had to hire an old four-wheeler for the purpose. Even then our difficulties were not at an end.

The University Press estimated that there would be a loss of £600 on the book, and while the syndics were willing to bear a loss of £300, they did not feel that they could go above this figure. The Royal Society very generously contributed £200, and the remaining £100 we had to find ourselves. We thus earned minus £50 each for ten years' work. This beats the record of Paradise Lost.
The first edition of Volume I ran to 750 copies. Volumes II and III, published in 1912 and 1913, ran to 500 copies each.
Aside from dissatisfaction with the Theory of Types and the Axiom of Infinity, there were a couple of other nagging questions left unsettled, though. First: Could all of mathematics be derived from Russell and Whitehead's logical system? Surely some of it could (though not always easily — R and W notoriously required hundreds of pages to reach the conclusion that 1+1=2) — but could all? And second: Could the Russell/Whitehead system be proven to be free of logical contradictions? The Russell Paradox had been excised by the Theory of Types, but could one exclude the possibility of other paradoxes lurking in the background?
Russell was surely hopeful on both counts. Kurt Godel, the logician of the millennium and the man who would dash those hopes, was four years old in 1910.
I venture to guess that nobody has ever read the three large volumes of Principia Mathematica, a typical page of which looks about like this: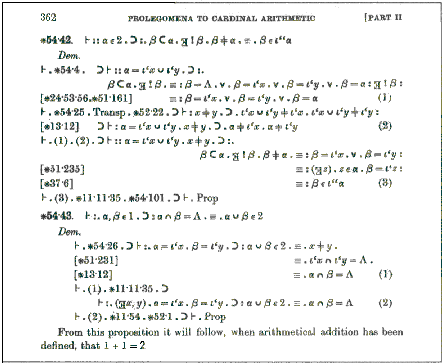 But, for having set the agenda for (at least) a century of research into the foundations of mathematics, I am sure it will still be celebrated in the A.D. 2100 of Lord Russell's nightmare.
[RELATED POST: Principia Mathematica: The Comic Book"]