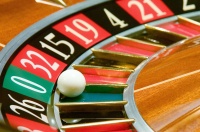 As promised, I am providing an update on the status of the various bets that got placed here last week.
The problem is this: In a certain country, each family continues having children until it has a boy, then stops. In expectation, what fraction of the population is female?
The answer is: not 1/2. A more precise answer depends on your additional assumptions — the number of families, the mortality rate, whether the parents count, whether there are grandchildren, etc. It might be possible to engineer those additional assumptions in some way that makes the answer come out to 1/2, but it would surely be impossible to argue that those ad hoc assumptions, whatever they are, are implicit in the statement of the problem.
Pretty much everyone seems to understand this now. (Here's one more learning aid, if you're still struggling.) What, then, are we betting about? Here is a list of all the open and closed bets:
Finally, Lubos Motl, whose money I'd have most gladly taken, is unwilling to put any money — or any argument — behind his preferred answer of 50%. An argument would consist of a list of clearly stated assumptions about mortality rates, etc, together with a proof that these assumptions lead to an answer of 50%. Perhaps Lubos can provide that, though so far he hasn't tried. Even so, he'd have shown, at best, that some set of assumptions yields the answer 50% — which is a long way from his claim that any reasonable set of assumptions yields that answer.
The take-away from all of this? Just because the expected number of girls equals the expected number of boys, it does not follow that the expected fraction of girls is 50%. Readers who were mistaken about this fell into two camps: Those who made arguments with mistakes in them (something most of us do on a daily basis, and nothing to be ashamed of) and those who thought that a temper tantrum could substitute for an argument (the "It does too follow! Neener neener!" camp). The latter group are the ones whose money I wish I'd taken.
One more followup: Littered through the comments of last week's threads is an extraordinary discovery by our commenter Tom, with further explication by Thomas Bayes, Neil and others, that does get the answer 50% to a modified version of the problem. This is very cool and I learned something from it. In the next few days, Tom and/or Thomas will be guest-posting here to explain their discovery.
Thanks to all who participated here and to all who forced me to improve my explanations. We'll be on to new topics soon.