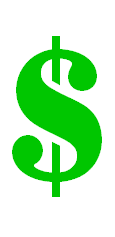 Last week I posted a little brain teaser that shows up frequently in recreational puzzle books — and reportedly in Google job interviews. The interesting thing about that puzzle is that the "official" answer is wrong. Not only that, but it's wrong for an interesting reason.
I explained the official answer, I explained exactly where it goes wrong, and I explained how to get the right answer, citing Douglas Zare's post here as inspiration.
The physicist Lubos Motl, however, still defends the official "50%" answer on his own blog. I am therefore offering to bet him $15,000 that I'm right (with detailed terms described below). If you agree with Lubos, this is your chance to get in on the action. I will take additional bets up to $5000 per person from all comers until such time as I decide to cut this off. You can place your bet by commenting on this post with the amount you'd care to stake. Be sure to include your email address (which does not show up in the post) so I can email you and verify that you're for real.
The problem, remember, was this: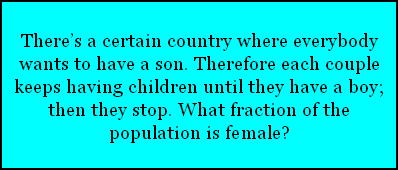 I specified that the answer is to be interpreted in expectation, since the actual fraction of girls could be anything at all due to statistical flukes.
I say the answer depends on the number of families in the country, but in no case is it 50%. Lubos insists that the correct answer is 50%.
Now the best way to settle such a dispute is to go to the mathematics. But since Lubos seems unable to follow the mathematics, the next best way is to run a simulation. So I propose the following terms: We'll randomly choose five graduate students in computer science from among the top ten American university departments of computer science and have them write simulations for a country starting with, say, four couples, each having one child per year and stopping when they have a boy. We'll let this run for a simulated 30 years and then compute the fraction of girls in the population.
[Edited to add: If Lubos (or anyone else) prefers to run the simulation till every family is complete (as opposed to a fixed number of years), that's fine with me. The bet is still on.]
To guard against statistical flukes, we'll run the experiment 3000 times and take the average of all the results.
I claim the answer will be just a hair under 44%. Lubos claims 50%. Let's say I win if the actual result is less than 46.5% and he wins if it's greater than 46.5%. (It would be fairer to put the cutoff at 47%, splitting the difference between us equally, but I already offered 46.5% in a comment on his blog, so I'll stick to that.)
If Lubos — or anyone else — has a better idea of how to choose the programmers, I'm open to adjustments in this procedure. And if Lubos — or anyone else — doubts that the procedure I've just described is a fair way to address the original question — namely what, in expectation, is the fraction of girls in the population — we can submit the dispute to five professors of statistics, chosen randomly from the top ten American departments of statistics. Lubos can describe the computation he wants done, the statistics profs can judge which of our descriptions is more appropriate, and the bet will stand with the simulation done as the profs prescribe.
I am guessing that nobody will take this bet, because everybody (including Lubos) who claims to doubt the result is in one of two categories: Either they're aware that they've failed to understand the mathematics, or they've understood it perfectly well but are posturing for effect. Either way, I expect they'll be unwilling to put up any cash. But I hope I'm wrong. I could use the money.