In front of you lie three urns, labeled A, B and C. Each contains 2000 balls. Urn A has 2 reds and the rest black; Urn B has 20 blue and the rest black; Urn C contains 1 red, 10 blue and the rest black. Like so: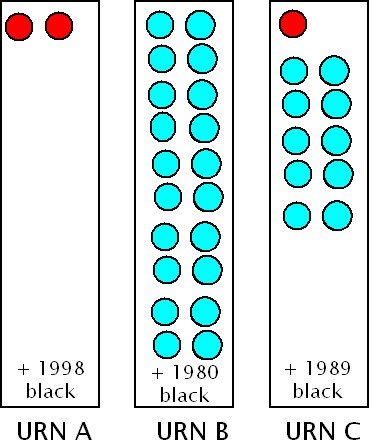 You can reach into the urn of your choice and remove a ball. If you draw red, you get $1000; if you draw blue, you get $100; if you draw black, you get nothing. Which urn do you pick and why?
Note that the urns are rigged so that on average (or, in economic jargon, "in expectation"), you'll win exactly $1 regardless of the urn, but of course it's perfectly normal to care about things other than what you'll win in expectation. So it's perfectly reasonable to prefer one urn to another.
Post your answers, and in a day or two I'll post my commentary.
Hat tip to my student Tallis Moore. I won't tell you now where he got this, to make it marginally harder to Google the standard analysis. Further hat tips forthcoming later in the week.
Note: All men's groups protesting the insensitivity of a post about "removing balls" will be cheerfully ignored.