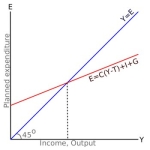 Today's lesson is about the Keynesian multiplier.
If you studied economics from one of the classic textbooks (like Samuelson) you might remember how this goes. We start with an accounting identity, which nobody can deny:
Y = C + I + G
Here Y represents the value of everything produced in (say) a given month, which in turn is equal to the total income generated in that month (because producing a $20 radio allows you — or perhaps you and your boss jointly — to earn $20 worth of income). C (which stands for consumption) is the value of the output that ends up in households; I (which stands for investment) is the value of the output that ends up at firms, and G (which stands for government spending) is the value of the output that ends up in the hands of the government. Since all output ends up somewhere, and since households, firms and government exhaust the possibilities, this equation must be true.
Next, we notice that people tend to spend, oh, say about 80 percent of their incomes. What they spend is equal to the value of what ends up in their households, which we've already called C. So we have
C = .8Y
Now we use a little algebra to combine our two equations and quickly derive a new equation:
Y = 5(I+G)
That 5 is the famous Keynesian multiplier. In this case, it tells you that if you increase government spending by one dollar, then economy-wide output (and hence economy-wide income) will increase by a whopping five dollars. What a deal!
Now, though I cannot seem to find a reference, I have a vague memory that it was Murray Rothbard who observed that the really neat thing about this argument is that you can do exactly the same thing with any accounting identity. Let's start with this one:
Y = L + E
Here Y is economy-wide income, L is Landsburg's income, and E is everyone else's income. No disputing that one.
Next we observe that everyone else's share of the income tends to be about 99.999999% of the total. In symbols, we have:
E = .99999999 Y
Combine these two equations, do your algebra, and voila:
Y = 100,000,000 L
That 100,000,000 there is the soon-to-be-famous "Landsburg multiplier". Our equation proves that if you send Landsburg a dollar, you'll generate $100,000,000 worth of income for everyone else.
The policy implications are unmistakable. It's just Eco 101!!