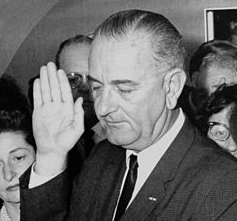 Fifty years ago today at 1:30 PM eastern standard time, a minor tragedy took the life of President John F. Kennedy. A little over an hour later, a major tragedy ensued, as Lyndon B. Johnson was sworn in to replace him.
If there is such a thing as evil, it lived in Lyndon Johnson, whose life was one long obsession with the accumulation and exercise of power. His biographer Robert Caro relates how, in college, Johnson engineered, by intimidation and deceit, a takeover of the Student Council partly so that he could, apparently for sport, force the removal of talented and hardworking students from the editorships of campus publications, replacing them with non-entities and reveling in the tragic aftermath as ousted incumbents (who had received small but urgently needed stipends for their work) were forced through financial hardship to drop out of school.
It was downhill from there. As President, Johnson presided over a misbegotten war in Southeast Asia — a whirlpool of destruction fed with lives and treasure — and an equally misbegotten "War on Poverty" that too often became a war on economic freedom, the only effective antidote to poverty the world has ever known.
The War on Poverty might have been more accurately termed a war to consolidate Johnson's influence. Poor rural families got grants and loans to expand their farms — provided they stayed on the farms, where Johnson needed their votes. Job training, educational programs, small business loans — all were available as long as you lived your life in a way that suited Lyndon Johnson's purposes.
It was Johnson who launched the National Endowments for the Arts and Humanities and the Corporation for Public Broadcasting, to ensure that the agendas of the arts, the humanities and the airwaves could be guided by the tastes of officials appointed by Lyndon Johnson. It was Johnson who arrogated unto himself and his cronies the power to veto private rental and employment contracts.
The depredations did not end with Johnson's departure from office at the end of 1968. In many ways, the Nixon administration that followed was a seamless continuation of the Johnson regime, the only change being the identity of the sociopath-in-charge. Under Nixon, the carnage continued in Southeast Asia. Under Nixon, the Great Society grew larger and more entrenched. It was Nixon who launched the eerily Johnsonian power-grab of wage/price conrols, injected his tentacles into the workplace with the odious Occupational Safety and Health Administration Act, and insured the incarceration of millions by launching the War on Drugs.
For nearly ten years, the United States and the world suffered under the yoke of what can fairly be called the Johnson/Nixon administration. The administrations and policies that followed have often been dreadful, but never quite so intensely and relentlessly dreadful as in the Johnson/Nixon years. Today is the anniversary of the onset of our long national nightmare. Only eternal vigilance can spare us another.