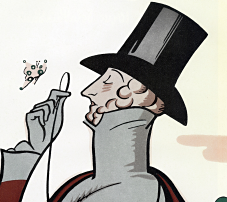 Once upon a time, the New Yorker took special pride in its famously scrupulous fact-checking department. Nowadays, they've apparently stopped caring whether the pieces they publish are even remotely plausible, let alone true.
Thus, writing about the Affordable Care Act in the current issue, Jeffrey Toobin is able to report that "it's clear that the law is helping a lot of Americans" because, among other things, "more than a hundred million people have received preventive-care services, like mammograms and flu shots, at no cost!!!!!!!!!!!!!!!!!!!!!!!!!!!" (Emphasis added.)
Now surely nobody at the New Yorker, right down to the greenest intern, can possibly believe that it is possible to provide a mammogram or a flu shot at no cost. The statement is so ridiculous that one has to believe either that it was intended as some sort of parody (a reading which the context does not support) or that Toobin meant to say something entirely different. But what?
Maybe he meant to say something like "a hundred million Americans have managed to get roughly a hundred million other Americans to pay for their preventive-care services". But this seems to be an implausible reading, because it's part of a laundry list of things that are supposed to be self-evidently good about the health care law, and there's nothing self-evidently good about transferring a cost from person A to person B.
Now I am committed to the view that we should read each other charitably whenever possible, but in this case I can't seem to come up with any plausible candidate for a charitable reading — let alone a plausible explanation of how this got past an editor.
It's true, at least, that a law that takes money from a hundred million Americans and gives it to a hundred million others can accurately be described as "helping a lot of Americans", but of course it can just as accurately be described as "hurting a lot of Americans". Presumably there was some intent behind the choice of one locution over the other. (And anyway, it's still not clear the statement is true, if by and large the people who are receiving these treatments and the people who are paying for other people's treatments are by and large the same people.)
So: Did Toobin mean that this particular income transfer from hundreds of millions of unidentified persons B to hundreds of millions of unidentified persons A is a self-evidently good thing? Surely he can't mean to say "It's always good for Bob to pay Alice's bills" without telling us anything about who Bob and Alice are. Indeed, in this case, it wouldn't be unreasonable for us to guess that the recipients are, on average, better off than the billpayers — it is, after all, not implausible, that those who have their acts sufficiently together to schedule and show up for a mammogram are, by and large, those who have their acts sufficiently together to show up for work and establish bank accounts.
But beyond that, and more fundamentally, even if Toobin knows something he's not telling us about who's paying and who's receiving, and even if, in light of that information, he thinks this income transfer is desirable, and even if he feels confident that, if only he had shared that information, we'd agree with him, and even if he believes we trust him enough that he doesn't actually have to share the information in order for us to nod our heads and say "Well, if Toobin's for it then so am I" — even if you grant all of that, a pure income transfer cannot be a significant benefit of the health care law, because a health care law is an extraordinarily indirect and clumsy way to transfer income. If Jeffrey Toobin really wants to move vast amounts of money around from one large group of Americans to another, I'm sure he can write an interesting article about that — but it's got nothing to do with health care policy.
There are, of course, reasonable arguments in favor of the Affordable Care Act, at least in its broad outlines. (There are also plenty of reasonable arguments against it). But those arguments are off topic here, because Toobin wasn't appealing to them.
So what on earth did he mean? Anyone?