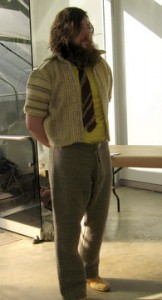 Here's a lovely suit of clothes that can be had for, oh, about $10,000. It's the result of a project conceived by Drexel University instructor Kelly Cobb to make a man's suit entirely from materials produced within 100 miles of her home. According to an article by Paul Adams in Wired magazine, the suit was produced by a team of 20 artisans, requiring a total of 500 man-hours.
Let's see, that's 500 hours of skilled or semi-skilled labor by artisans whose time is probably worth something on the order of $20 an hour. For about $10,000 I can have one made for you.

But if you take up my offer, don't get too smug about buying local. According to the same article in Wired, Cobb estimates that 8 percent of the materials came from outside the prescribed 100 mile radius. Now here's the money quote: "If we worked on it for a year and a half", says Cobb, "I think we could have eliminated that 8 percent".
So—20 artisans, at—oh, let's be way conservative—$10,000 each per year, for a year and a half—if you're really a purist, your suit will run you about $300,000.
Or you could go down to Wal-Mart, grab something a little snazzier for well under a hundred bucks, and reflect on the benefits of global trade.
(A tip of the hat to Mike Rizzo.)