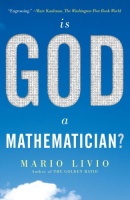 Is mathematics invented or discovered? In my experience, applied scientists often think of mathematics as a human invention, while actual mathematicians (with a few notable exceptions) feel sure that mathematics was always there to be discovered. (Of course, it's sometimes hard to tell how much of this is genuine disagreement and how much is a language barrier.)
I've just finished reading an excellent book by Mario Livio which is entirely about the invention/discovery question, though he's chosen the (somewhat unfortunate) title Is God a Mathematician? Much of the book is a lively romp through mathematical history, with a well chosen mix of biography and exposition. Although he parts company with them in the last chapter, Livio gives a more than fair hearing to the many great mathematicians who have insisted that they are discoverers, from Pythagoras through Galileo, G.H. Hardy, Kurt Godel, and the contemporary Fields Medalist Alain Connes (among others). Here, for example is Connes:
Take prime numbers, for example, which as far as I'm concerned, constitute a more stable reality than the physical reality that surrounds us. The working mathematician can be likened to an explorer who sets out to discover the world…We run up against a reality every bit as uncontestable as physical reality.
Readers of The Big Questions will know that I am entirely in Connes's camp on this issue, for reason I'll blog about later in the week. And as I've said, it seems that most mathematicians sit in this camp. But there are notable dissenters, including the great Sir Michael Atiyah, another Fields Medalist who I might well have included in my gallery of heroes. Despite my great admiration for Atiyah, I believe he's wrong on this issue. But more fundamentally, I believe his primary argument proves exactly the opposite of what he thinks it does. Here is that argument (slightly condensed):
Any mathematician must sympathize with Connes. We all feel that the integers really exist in some abstract sense and the Platonic view is extremely seductive. But can we really defend it? It might seem that counting is really a primordial notion. But let us imagine that intelligence had resided, not in mankind, but in some vast solitary and isolated jellyfish, buried deep in the Pacific Ocean. It would have no experience of individual objects, only of the surrounding water. Motion, temperature and pressure would provide its basic sensory data. In such a pure continuum the discrete would not arise and there would be nothing to count.
Here Atiyah has envisioned a world where the natural numbers get neither invented nor discovered. I'm not sure why that's supposed to prove they don't exist. On the contrary, it seems to me that quite unbeknownst to Atiyah's Jellyfish, the earth would still have exactly one moon and exactly two magnetic poles, and two would still be twice one. Two would still be a prime number, and 1729 would still be the smallest number that is the sum of two cubes in two different ways.
Indeed, all these things were true back in the days when the world was populated by creatures who were unaware of them. It doesn't matter for the argument whether those creatures are highly intelligent in other ways. In that sense, Atiyah's Jellyfish is more like a Red Herring.
Or to put this another way: Atiyah says that an intelligent creature might be unaware that one plus one makes two. Sure—so might any creature. To me, this indicates that 1+1=2 is not an invention; it's simply a truth. Can anyone explain why Atiyah thinks his story proves otherwise?