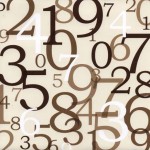 Yesterday we started a conversation about whether mathematics is invented or discovered. Today I'll give you my three best arguments for "discovered". And to focus the discussion, I'll talk not about mathematics generally but about the natural numbers (0,1,2, and so forth) in particular.
I believe the natural numbers exist, quite independently of whether anyone's around to think of them. Here's why: First, we perceive them directly. Second, we know non-trivial facts about them. Third, they can explain the Universe. In more detail:
1. We perceive them directly. I believe that flowers, rainbows and headaches exist because I perceive them directly. I believe that the natural numbers exist for exactly the same reason. Almost anyone who has ever thought hard about higher arithmetic will tell you the same thing. Yesterday I quoted the Fields Medalist Alain Connes saying that when mathematicians contemplate arithmetic, "we run up against a reality every bit as uncontestable as physical reality". Today I'll quote Kurt Godel, the greatest logician of all time:
Despite their remoteness from sense experience, we do have something like a perception of the objects of set theory, as is seen from the fact that the axioms force themselves on us as being true. I don't see any reason why we should have less confidence in this kind of perception, i.e. in mathematical intuition, than in sense perception.
2. We know non-trivial facts about them. In 1637, Pierre de Fermat wondered whether you can find four positive numbers x, y, z and n, with n at least 3, that satisfy the equation

xn+yn=zn
After 350 years, the question was settled by
Gerhard Frey
,
Ken Ribet
and
Andrew Wiles
in one of the most spectacular mathematical achievements of the twentieth century. The answer, as Fermat had believed, is no.
That's certainly a meaningful statment: It means that no matter what four numbers you write down, we can predict with certainty that as long as they're positive, and as long as n is at least 3, the equation I've just written down will never be true. But unlike the axioms that Godel was referring to, it's hardly self-evident and it does not force itself on us as being true; that's part of why it took 350 years to prove.
So how do we know that Fermat's Last Theorem (i.e. the statement that the equation has no solutions) is true? The answer is not that it follows step by step from some list of self-evident axioms about the natural numbers. As far as I am aware, nobody has the foggiest idea whether Fermat's Last Theorem follows from any set of reasonably self-evident axioms about arithmetic, such as the Peano axioms that I wrote about here. Instead, we know that Fermat's Last Theorem is true via informal (but, to almost all mathematicians, completely convincing) arguments that are not about manipulating axioms but instead are about the properties of numbers themselves.
(It's a virtual certainty that these informal arguments could be formalized in some language, but—again as far as I know—it's quite unknown whether they could be formalized in the usual language of arithmetic.)
So I agree with Godel that the self-evident nature of the axioms is evidence that the natural numbers are real, but I also believe, quite separately, that the non-self-evident nature of statements like Fermat's Last Theorem is additional evidence. Here we have a statement that is true, but it's truth is not derived from axioms about arithmetic. Instead it's true because it's a correct statement about something. That "something" is the system of natural numbers.
3. They explain the Universe. This argument is surely more speculative than the others, but I cannot imagine any way to explain the existence of the Universe without the prior existence of the natural numbers. (This is more or less the same reason some people give for believing in God.) It seems to me that the most compelling question in philosophy is why anything exists at all. Any satisfactory answer has to start with something that must exist. The natural numbers fill that role admirably. In The Big Questions, I've sketched a story about how, once you've got some mathematical objects, the Universe can sort of bootstrap itself in existence from there; this is similar in spirit to the story advanced by the noted cosmologist Max Tegmark in his essay on The Mathematical Universe (cited in yesterday's comments by Al V.)
Now admittedly, my inability to find any alternative explanation for the Universe does not prove that this explanation is correct. For that matter, my hunger for an explanation doesn't mean there has to be one. Maybe the Universe just is. But when you're facing a huge riddle and you can only think of one possible solution, you've got to at least contemplate the possibility that you're on to something.