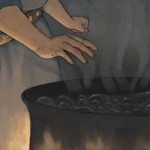 Peter Leeson of George Mason University (currently visiting the University of Chicago) offers a new take on the medieval practice of "trial by ordeal":
"For 400 years the most sophisticated persons in Europe decided difficult criminal cases by asking the defendant to thrust his arm into a cauldron of boiling water and fish out a ring. If his arm was unharmed, he was exonerated. If not, he was convicted."
According to Leeson, this is less crazy than it sounds: As long as defendants believe (superstitiously) that ordeals yield accurate verdicts, guilty defendants always confess to avoid the ordeal. At the same time innocent defendants always opt for the ordeal—and are always acquitted, provided the priests cheat by (for example) substituting tepid for boiling water, or "sprinkling" a few gallons of cold holy water over the cauldron, or liberally redefining what counts as "unharmed".
Not only does the system work, but it's continually reinforced. Even the superstitious masses are smart enough to figure out that their equally superstitious neighbors opt for ordeals only when innocent; therefore they expect all ordeals to yield acquittals, and their expectations are always confirmed.
If not everyone is perfectly superstitious then the story is a little more complicated. Still, as long as there's a healthy amount of superstition floating around, and as long as the priests are eager to convict the guilty and acquit the innocent, you'd expect most ordeals to yield acquittals, and you'd expect non-believers to be denied the ordeal option. (After all, the system works only as long as the participants believe it's rigged not by the priests but by God.) And indeed, there's some historical evidence for these and other prediction of the Leeson theory. See his paper for more.
(The image at the top is by the children's book illustrator Jeffrey Brian Fisher.)