Harvard's Robert Barro, who is good at this stuff, estimates (in round numbers) the effects of last year's stimulus package (numbers represent billions of dollars):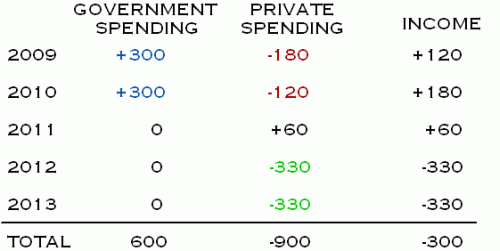 The executive summary is that income (that is, the total income of all Americans) rises in 2009 and 2010 (while the stimulus money is being spent), and continues a bit higher for another year after that, but falls in later years (when the taxes, with their accompanying disincentive effects, come due). (Of course, the day of reckoning can be delayed, but not forever—so the arithmetic still rules). Adding up over five years, income falls by $300 billion, or about $1000 per American.
These numbers confirm my prejudice that the stimulus package is a bad idea, but they still make me uncomfortable. Let me first add a few remarks about what the numbers mean and then I'll tell you what I don't quite get about them.
Interpreting the numbers. The first thing to observe is that spending by one party generates income for another. That's why the spending changes (in columns 1 and 2) add up to the income change (in column 3). Barro makes a few further observations:
The chart implicitly assumes that all stimulus money is spent wisely; it assumes this by not accounting for losses due to wasteful spending. Correcting for this would mean replacing the blue numbers (actual government spending) with lower numbers that represent the value of what gets bought, and would make the stimulus look like an even worse deal.
Christy Romer, the head of President Obama's Council of Economic Advisors, is famous among economists for research suggesting that the green numbers should be substantially more negative than Professor Barro's own estimates. If we replace Barro's estimates with Romer's, the stimulus looks like an even worse deal.
Romer also claims the red numbers should be much less negative, or even positive. This would make the stimulus look like a better deal. But Professor Barro claims that in contrast to the green numbers, which she's written about extensively, Romer has never given a substantial justification for her guesses about the red numbers.
Barro doesn't mention this, but it's worth pointing out that if we're earning less in 2012 and 2013, that means we'll also be working less. Accounting for the value of that additional leisure would make the stimulus look like a somewhat better deal.
What I'm leery of. Here's what bothers me: According to this chart, in the years 2009 and 2010, household incomes rise but household spending falls. Why would people spend less when their incomes rise? The usual answer is that government spending causes the interest rate to rise, and that's what chokes off private spending. But here we're talking about a period when interest rates were near zero. If the interest rate doesn't choke off spending, what does?
One possible answer is that interest rates for household borrowing haven't really been that low. Maybe that's the whole answer, but I'd like to see this addressed. (Or you could reconcile this if consumption—and/or investment—is extremely sensitive to small interest rate changes, but I think you'd need implausibly much sensitivity for this to be the whole story.)
Another partial answer is that people spend less because they're squirreling away income in anticipation of future tax hikes. But that can't account for numbers of the magnitude we're seeing in this chart.
Or maybe the argument is that people can afford to spend less when the government does their shopping for them. If President Obama buys you a bowl of corn flakes every morning, you'll stop buying corn flakes for yourself. But this works only if the stimulus money is spent on stuff people were going to buy anyway (or on good substitutes for that stuff). Is that what Barro is assuming? And if so, on what basis? I'd love to see the details of this.
Those are my questions. I have substantial confidence that Professor Barro (who has thought about this stuff at least 3000 times harder than I have) has good answers. But from his Wall Street Journal column, I can't tell what those answers are.