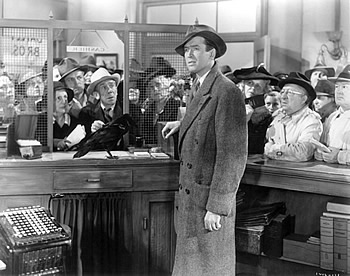 Banks, by their nature, are susceptible to bank runs. Depositors panic and demand their money back, the bank doesn't have enough cash on hand to meet all the demands, this generates even greater panic and even more demands, and pretty soon the bank is selling off assets at fire sale prices in a desperate attempt to placate the depositors. Back before Federal deposit insurance, this used to happen from time to time. According to Yale's Professor Gary Gorton, author of Slapped By the Invisible Hand: The Panic of 2007, it happened again recently. The great crisis of the past few years was just another bank run, pure and simple.
The only difference is that this time the banks were non-traditional financial firms like Bear Stearns (as opposed to, say, the Bailey Building and Loan Association) and the depositors were large financial institutions like Fidelity (as opposed to the good citizens of Bedford Falls). Here (with a hat tip to Gorton) is how that non-traditional banking system worked: Suppose Fidelity is sitting on, oh, say, half a billion dollars in cash that it would like to deposit in an interest-bearing account someplace. So they open an account at Bear Stearns. Unfortunately half-billion dollar accounts at Bear Stearns (unlike your checking account at the Bank of America) are uninsured, which makes Fidelity a little nervous about turning over so much money in exchange for nothing more than a deposit slip. So Bear Stearns, along with the deposit slip, hands over a half billion dollars worth of collateral, in the form of bonds. Fidelity takes physical possession of these bonds, so that it's covered if Bear Stearns goes bankrupt or absconds with the money. (Bankruptcy law allows Fidelity to keep the bonds if it's holding them when Bear Stearns goes under.) When it's ready to make a withdrawal, Fidelity returns the bonds and gets its cash back. This exchange of collateral is what's called the repo market.
Now suppose that Fidelity starts to worry about the value of the collateral it's holding—say because it's not sure how many of those bonds are backed by hinky subprime mortgages. Sure, the bonds are worth half a billion now, but they might be worth only 400 million by tomorrow morning. They say to Bear Stearns: "Umm. We're a little worried here. If you want to keep our deposit, we'll be needing more collateral please". But if several depositors say this at once, there's not enough collateral to go around—so depositors start making withdrawals (or, equivalently, depositing less money per unit of collateral). And if you've ever seen It's a Wonderful Life, you know what happens next.
Some of Professor Gorton's conclusions:
Bank runs are not driven by irrationality; they are perfectly rational responses to new information about banks' solvency. Of course "rational" is not at all the same thing as "desirable".
It is wrong to say that the crisis was caused solely by the collapse of the subprime mortgage market. That market, by itself, is too small to cause a crisis of this magnitude. Besides, the timing is wrong. Subprime mortgages started going under in January, 2007, but the panic didn't get underway until the following August. Gorton likens the subprime mortgage market to a small E. coli infection somewhere in the nation's beef supply. The infection itself is only a small problem, but the ensuing panic can cause the entire beef industry to collapse.
Where there are banks, there will be bank runs. Therefore this problem is structural; it's not a one-time thing. On the other hand, imperfect as they are, banks are pretty much indispensable.
To this I would add the observation that fire sales are not unambiguously bad things; they are bad for the sellers but very good for the buyers. So toting up the losses to Bear Stearns and its ilk is a very poor way to measure the cost of this crisis. The real cost has been that with the collapse of the repo market, traditional banks had no place to sell off their loans, and therefore became quite reluctant to initiate new loans, making it difficult for businesses to maintain their operations. Without denying the reality of that cost, it's worth remembering that it's a relatively short-run phenomenon.
There is much more here and in Gorton's book.