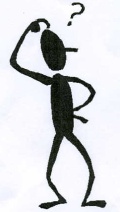 Well, "praise" might not be exactly the right word, but I do want to argue that by and large, genocide is the least objectionable form of mass murder—for the simple reason that, when successful, it leaves no mourners. Other things being equal, meaningless deaths are best clustered among people who care about each other. I'm pretty sure I prefer the home invader who wipes out a family of five over the serial killer who takes four lives at random, leaving four devastated spouses and twelve grieving children. And likewise I prefer the mass murderer who wipes out an extended "family" of five million to the one who kills, say, four and a half million at random. Taking the death and destruction as given, sowing less misery earns you a little slack.
The countervailing argument is that when you destroy an ethnic group, you also destroy a culture. Of course, that's of little additional consequence if the primary aficionados of that culture are all among the dead. You could counter-argue (correctly) that we all benefit from being able to dabble in a wide variety of cultures, tasting their food, listening to their music, hearing their stories, assimilating their insights. And that might very well be a significant argument in a world where a series of genocides had reduced the world's stock of cultural diversity far below its present level. But as the world stands today, I suspect that cultures are worth very little at the margin (that is, we could stand to lose any one culture without missing it very much). There's only so much you can assimilate in a lifetime, and to a considerable extent, time spent in contact with one culture is time not spent in contact with another.
So I'm not sure why the adjective "genocidal" is so often taken to be pejorative. I'm also not sure there's any point to condemning some mass murderers more fervently than others, but if we're going to play that game then I'm inclined to count genocidal intent as a mitigating circumstance.