In high school, we used to play four-dimensional tic-tac-toe. The board looks like this: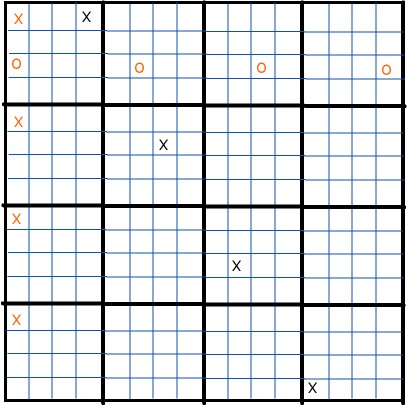 Here each four-by-four subsquare is an ordinary tic-tac-toe board (except that it's four-by-four instead of the traditional three-by-three). You should think of the four subsquares in the first column (or any other column) as stacked above each other in the third dimension. The red x's form a vertical line in that direction, so if you manage to place four x's in those positions, you're a winner.
You should also think of the four subsquares in the first row as stacked above each other in yet another dimension. The red o's form a diagonal line passing from the bottom left to the top right (using "bottom" and "top" to refer to directions in this fourth dimension). And the black x's form another kind of diagonal line, passing from one corner to another through all four dimensions. So there are a lot of ways to win this game.
In ordinary (two-dimensional, three-by-three) tic-tac-toe, two smart players will always battle to a draw. If you extend that game to four dimensions (so you've got nine three-by-three subsquares), the exact opposite is true: No matter how smart or dumb the players may be, someone always wins; draws are impossible. What about the larger four-dimensional game I've drawn above? Is there a winning strategy in that game? I'll let you ponder that.
I hadn't thought about four-dimensional tic-tac-toe in many years. Now it's much on my mind, because a problem about higher dimensional tic-tac-toe may be ushering in a sea change in the way mathematical research is done. I'll tell you more about that before the week is out.