Blogging, as you might have heard, is changing the face of the media. It may also be changing the face of mathematical research. For the first time ever, a substantial mathematical problem has been solved via an accumulation of blog comments, all building on each other. Could this be the future of mathematical research?
Before I explain the problem, let's talk a little about tic-tac-toe. As you probably figured out long ago, intelligent players of ordinary tic-tac-toe (on a 3 by 3 board) will invariably battle to a draw. But, as you probably also figured out, not every game ends in a draw, because not every player is intelligent.
On the other hand, if we blacken out the three squares on the main diagonal and don't allow anyone to play there (so the game ends when the remaining six squares are filled, then every game is sure to end in a draw. There's simply no way to get three in a row when you're not allowed to play on the diagonal: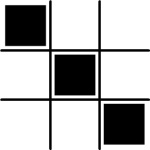 Okay. Now let's play tic-tac-toe in three dimensions, with three ordinary boards stacked on top of each other (giving you a total of 27 places to place your X.) How many of those 27 squares would I have to blacken to insure that winning is flat-out impossible? The answer, it turns out, is 9—as long as you choose the right 9. And if we go to 4 dimensions? Now there are 81 squares, and if you want to prevent any possibility of winning, you're going to have to blacken at least 29 of them. In 5 dimensions, you've got to blacken at least 93.
(See yesterday's post if you're puzzled about how to play tic-tac-toe in four dimensions).
The density Hales Jewett Theorem says that as you go to higher and higher dimensions, the number of squares you must black out to prevent a win gets arbitrarily close to 100% of the squares available. In some high enough dimension, you'll have to black out at least 90% of the squares; in some higher dimension, you'll have to black out 95%, and then 99% and 99.9999%. If you're not sure why anybody would care about such a thing, take my word for it—there are many applications to other areas of mathematics.
(My statement of the theorem glosses over some minor technicalities; the actual theorem is slightly stronger than what I've quoted here.)
Now until a few months ago, the only known proof of the density Hales Jewett theorem was extremely difficult. But Tim Gowers, a Fields-Medal winning Cambridge mathematician, thought there ought to be an easier proof. So he did what everyone with an opinion about anything does nowadays; he posted his opinion on his blog. He also did what no mathematician had ever done before, and invited the entire world to collaborate with him in proving his opinion correct. Following an initial post asking "Is Massively Collaborative Mathematics Possible?", he posted a description of the problem and invited his readers to have at it in comments.
Commenters leapt in. In response to a couple of dozen blog posts by Gowers and others, roughly spanning the calendar year 2009, commenters continued to build on each others' ideas until they produced the (relatively) simple proof Gowers had been hoping for. Along the way, they accomplished a lot more—for example, we now know that in 5 and 6 dimensions, you've got to black out exactly 93 and 279 squares (again, glossing over some minor technicalities); these numbers were not known before the blogging project. For any single mathematician—or team of mathematicians—this would have been a singular accomplishment. It's not clear it would ever have happened in a world without blogs.
Gowers believes this could be the beginning of a whole new way of doing mathematics, allowing hundreds or thousands of mathematicians to contribute to the solution of a single problem. Of course this raises all sorts of questions about rewards and incentives, many of which are addressed (but not, or course, settled) in Gowers's "Massive Collaboration" post. Still, I have an inkling that this is a big freaking deal.