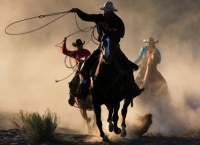 Before we get to the roundup, here's the latest chapter in the ongoing intellectual suicide of Paul Krugman:
Economists Carmen Reinhart and Ken Rogoff write a scholarly paper purporting to show that high levels of government debt lead to slow economic growth. For the record, I have not read this paper.
Krugman, while praising the authors' previous work, asserts that this time, there's no there there. Specifically, he says that most of the Reinhart-Rogoff evidence comes from four episodes. According to Krugman, none of these four episodes counts. One could certainly well imagine a reasoned argument along these lines.
Krugman's, however, is not that reasoned argument. Here is how he dismisses the episode labeled "Canada in the 90s":
advocates of austerity have been using Canada in the mid-90s as an example of a success story; surely they can't have it both ways.
The problem, of course, is that there is no "they" who are trying to have it both ways. Reinhart and Rogoff have made an argument about Canada in the 90′s. That argument stands or falls on its own. It is no refutation to observe that somebody else might have made some other (correct or incorrect) argument about Canada in the 90′s.
The fallacy here is to lump together all of the people with whom Krugman disagrees on matters of policy, assume they all agree on matters of theory, and hold them responsible for each others' views, even to the point of accusing A of inconsistency because he disagrees with B. For the first time ever, I went ahead and left a comment on Krugman's blog to this effect. But it's exactly the same intellectual crime I've been objecting to here on The Big Questions for weeks.
Most recently, I objected this past Monday, which brings us to the beginning of our roundup. Tuesday, we talked about the ultimatum game, in which experimental results indicate that people are hesitant to steal money. I'm not sure what that tells us beyond what we already knew. Wednesday we had video from one of the most amazing plays in the history of baseball. And on Thursday and Friday, we had a quiz question and its solution to test your understanding of comparative advantage—one of the deepest and most fruitful insights in the history of economics.
I'll be back on Monday.