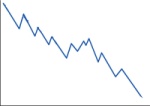 So apparently we're all supposed to be worried these days about the specter of deflation. I am doubly baffled by this—I don't see the problem in theory and I don't see the problem in practice. Maybe there's something I'm missing.
Start with the theory: We learned long ago from Milton Friedman (who might have learned it from Irving Fisher) that a little bit of deflation is a good thing. That's because deflation encourages people to hold money, and people who hold money aren't buying stuff, and when other people don't buy stuff, there's more stuff left over for you and me.
There are a couple of other ways to see this, though they all come down to the same thing. Here's the first: falling prices are good for buyers and bad for sellers, but that all washes out. It washes out in the aggregate because each gain to a buyer is offset by an equal and opposite loss to a seller. And it more or less washes out for each individual, because each of us sells roughly as much as we buy (including the sale of our labor.) But over and above all that, deflation enriches the holders of money, because their money increases in value as it sits around. That part is pretty much (may Milton's ghost forgive me for putting it this way) a free lunch.
Yet another way to see it is this: The only way to hang on to a dollar is to resist spending it, so the cost of keeping a dollar in your pocket is a dollar's worth of forgone consumption. That's the cost to you. But the cost to society of your holding a dollar is zero, because it costs us essentially zero to print that dollar up for you. Whenever an activity is costlier to you than it is to society, you'll tend to do too little of it. (That's why not many people spend their Sunday mornings picking up litter in the park.) Therefore people hold too little money. That means we ought to subsidize them to hold more, and deflation does exactly that.
So in that sense deflation is desirable. But a lot of commentators, including a few who are not economic ignoramuses, seem to be taking it for granted that deflation is something to fear. Which means they must see some offsetting disadvantage. And I'm not at all sure what they have in mind.
In this connection, you'll hear the phrase "liquidity trap" a lot. A liquidity trap is simply a situation where interest rates are so close to zero that people are willing to hold vast amounts of money. As a result, when the authorities (wisely or unwisely) flood the market with money to encourage spending, it doesn't work, because people just hang on to the new money. It's alleged that this is some sort of a problem. But in reality, it's a wonderful wonderful thing, because it means that the authorities can print money (at essentially zero cost) and use it to fund government operations like Social Security and Medicare without worrying about any of the usual consequences (at least until the liquidity trap eases and people start trying to spend that new money, at which point the government can simply call the money back in by selling bonds and destroying the proceeds). In a liquidity trap, government operations are effectively free.
(To put this another way: The government spends a penny to print up a dollar bill, uses that dollar bill to buy a widget, and the seller of the widget is perfectly happy to hold on to the dollar bill rather then demand any real resources in return. That's total win-win.)
So much for theory. Now to the practical issue: Even if deflation is a bad thing, we know how to solve it. Print enough new money and people will eventually start spending it. It's alleged that no matter how much you print, it can all just fall into the liquidity trap, and it's alleged that this is what happened in Japan over the past decade. But I am sure the Japanese just didn't try hard enough. Liquidity trap or not, I guarantee you there's a central banker in Zimbabwe who knows how to fight deflation. If we really get into trouble, all we have to do is hire him.