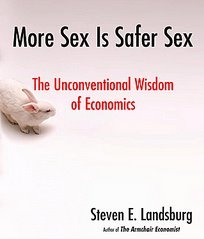 I once wrote a book called More Sex is Safer Sex". If you're wondering what that means, you can read the essence of the argument in Chapter 12 of The Big Questions and/or watch me explain it on video.
Python programmer Jack Trainor has posted a simulation that he believes is somehow relevant to this argument. (Comments on his post are here.) I'd thought this was too nonsensical to respond to, but more than one reader has asked for a response, so here goes: Except for the fact that his code runs, Trainor's managed to get this argument wrong in every possible way. He's misstated the assumptions, he's misstated the logic, and he's misstated the conclusions.
Start with the assumptions. The entire argument is based on the assumption of optimizing behavior — that people weigh potential costs against potential benefits when they choose their sex partners. But Trainor ignores this completely, starting in the first line of code, which reads

HIGH_ACTIVITY_RATE = 0.10
In other words, he
assigns
activity rates, rather than assuming that people adjust their activity to the ambient risks, which in turn depend on other people's activity rates. From that moment on, he's off in Cloud Cuckoo Land.
Next, the logic. There is, after all, a logic to this argument. It goes like this: If you're an ordinarily-very-cautious person, and you get uncharacteristically frisky tonight, you confer two benefits on the rest of the world. First, whoever goes home with you is having safer sex than they probably realize. Second, if you get infected tonight, you're unlikely to spread the infection very far — and you've at least temporarily deflected your partner from passing on the virus to Promiscuous Pete, who would have spread it to twenty others.
Those are the benefits, of which Trainor accounts for the first and ignores the second, even though I've pointed out repeatedly that the second is more important. But that's not his big mistake. His big mistake is to overlook the fact that you've somehow got to weigh these benefits againt the costs of promiscuity. Therein lies the heart of the argument, which Trainor ignores completely.
Here, then, is that heart of the argument. First, if you took on that new partner voluntarily, then we don't have to worry about any costs that fall on you, because we know those costs were (in expectation) outweighed by benefits — otherwise you'd have stayed home. Second, even if you needed a little nudge toward taking that partner (say with a free condom from the government?), the same argument applies — as long as the nudge was little. In that case, your personal benefits at least almost outweigh all the risks you're taking (and ditto for your partner), so we can ignore those risks and go back to focusing on the benefits you confer on others. And in a big enough population, there are always people who need only slight nudges to push them over the edge. Therefore, if we nudge the right people, we have to improve social welfare (defined as the excess of benefits over costs).
That's what all this is about, and Trainor just ignores it. His code doesn't even have variables to measure costs and/or benefits and so can't possibly be remotely relevant.
Beyond that: As I stressed in Chapter 12 of The Big Questions, this argument is strictly a logical one. You might choose to doubt some of the assumptions, but if you grant the assumptions then the conclusions follow as the night the day. Logic cannot be falsified by simulations. Trainor might as well write a simulation to check whether every even number is divisible by two. If he manages to reject that claim, then we know his code is off the mark.
Finally, Trainor is entirely confused about the conclusions. The main conclusion is that under any reasonable assumptions, a little extra promiscuity improves social welfare. That can happen in either of two ways: Either fewer people get sick, or more people get sick but they and/or others have so much fun along the way that it's worth it. The second conclusion is that under some reasonable assumptions, fewer people get sick. I demonstrated this with an example in More Sex (search for the "monogamous wives" example). The third conclusion is that under the most carefully thought out assumptions we know of — that is, in the work of Michael Kremer — fewer people get sick.
(Of course the third conclusion makes the second unnecessary, but I include the second as a separate conclusion because it's easy to understand whereas Kremer's work can be technically daunting.)
Which of these conclusions does Trainor think he's refuting? Surely not the main conclusion — that one is about costs and benefits, but Trainor doesn't even talk about costs and benefits. So does he think he's refuting the second conclusion? That's the one that says that under some assumptions, following a rise in promiscuity, fewer people get sick. You can't refute that by showing that under some other assumptions, more people get sick. Particularly when your assumptions are as off the mark as Trainor's.
That leaves the third conclusion — that the careful work of Michael Kremer, well informed by both epidemiology and economics, finds that it is in fact highly likely that a little extra promiscuity would slow the spread of HIV. Surely that's not what Trainor claims to be refuting with his snippet of code. So what's his point? I give up.