Paul Krugman says there's been no surge in government spending. I say there has been. Paul offers a graph in evidence. I look at that same graph and see a four-year surge.
Several commenters have insisted that I am ignoring Paul's point — the point being that if we take the Bush years as a baseline, then there's been no surge relative to that baseline. Really? Here's federal government expenditure from the beginning of the Bush years to today. The blue line projects a continuation of the average annual spending increases under Bush. The vertical bar marks the advent of the Obama age.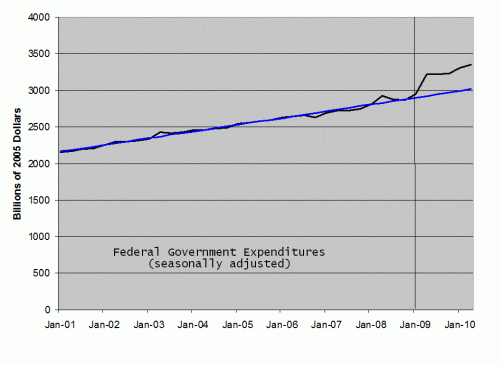 (I constructed this graph from the invaluable FRED database at the St. Louis Fed.)
Now personally, I look at this graph and the main thing I see is a ten-year surge in federal government expenditures. But if you insist on taking the Bush years as a baseline — well, then what you see, starting in 2009, is an Obama surge. You might or might not want to argue that the surge was justified (or compelled) by economic conditions, but I don't see how you can deny it's there.
For the record, the graph looks pretty much the same (though a little less dramatic) if you total all government expenditures (not just federal):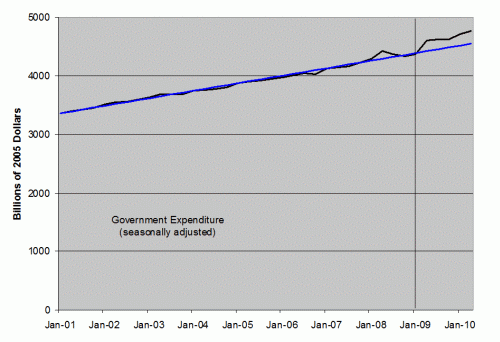 So there.