Paul Krugman offers the following graph as evidence that "spending hasn't surged":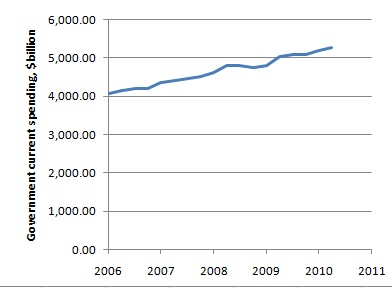 Now, what I'm seeing here is something like a 25% increase in spending under the Bush/Obama policies of the past four years. Which makes me wonder exactly what it would take to count as a surge in Krugman-land.
********
On separate notes:
1) Yesterday's post on rationality generated several comments that deserve responses. For the most part, I am reserving those responses for a separate blog post a few days down the line.
2) I just now hit a wrong button and deleted about 100 comments that my software had classified as spam, without first skimming through them. There is therefore a small but non-zero chance that I deleted a legitimate comment or two. If so, I very much apologize and hope you'll try again.
Click here to comment or read others' comments.