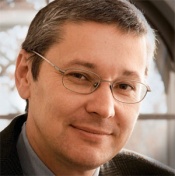 Greg Mankiw endorses the Bowles-Simpson recommendation to eliminate the mortgage interest deduction. I am not convinced. Here's why:
I start from the position that capital income (including interest income) ought not be taxed. Unlike a tax on labor income, which (unfortunately) discourages work, a tax on capital income discourages both work and saving, and so is doubly destructive. Moreover, it effectively taxes the labor of the young (who earn, save for a while, and then spend) at a higher rate than the labor of the old (who earn, save for a shorter time, and then spend), which is both unfair and distortionary (in that in encourages young people to postpone their high-earning years).
If you discourage saving, you discourage capital formation, which means you dampen wage growth. ("Capital" here refers to factories, machines, etc., not to financial instruments.) In the long run, the one and only thing that drives wage growth is worker productivity — and the key reason workers become more productive is that they have better equipment to work with. A tailor with a sewing machine is more productive, and therefore earns higher wages, than a tailor with a needle and thread. So if you tax capital to avoid taxing labor, you're doing labor no favor in the long run.
If you want to tax capital income because you think it accrues mainly to "the rich", who already claim too many resources, keep in mind that capital taxation encourages the rich to save less, consume more, and therefore command even more resources. It is counterprodutive to adopt a tax policy that encourages even more consumption by the people you believe are consuming too much already.
Greg Mankiw has eloquently made some of these very arguments with regard to the estate tax (which is one form of capital taxation), but at least some of those arguments apply more generally.
So what does all this have to do with the mortgage interest deduction? Answer: Mortgage interest is (unfortunately) taxable income to the lender. And I like the mortgage interest deduction because it effectively undoes that tax.
How so? Take an example. In a world with no taxes, I lend you money to buy a house. Every month you pay me $100 in mortgage interest. Now the government starts taxing that income. As a result, fewer people are willing to lend and the interest rate rises. You're now paying me (say) $130 a month, of which I'm keeping (say) $80 after taxes.
Now let's throw in a mortgage interest deduction. Now more people want to borrow, and that pushes the interest rate up still further. You're now paying me $150 a month, of which I'm keeping $100 after taxes. And that $150 a month costs you only $100 a month, because you've got your deduction. You and I are both right back where we were in the world without taxes. So adding the mortgage interest deduction is equaivalent to subtracting the tax on interest.
Wait a minute now. The tax on interest pushes down my after-tax return, and the mortgage interest deduction (by increasing the demand to borrow) pushes up my after-tax return. But my example claimed more than that — it claimed that the two effects are not just in opposite directions; they are equal and opposite, so that my after-tax income returns to its original $100. Where did that come from? Answer: It's a standard exercise in economic theory, which I hope my sophomore-level theory students can all carry out. The proof fits easily on a blackboard, but not (unfortunately) in a blog post. (It also relies on certain assumptions, e.g. that the borrower and the lender are in the same tax bracket. These assumptions are probably not literally true, but close enough for practical purposes.)
So I like the mortgage interest deduction because it effectively repeals a bad tax. But a possible response to that is that not all bad taxes should be repealed. Sometimes two bad taxes are better than one. Mankiw essentially makes this argument when he says that "tax subsidies to housing, together with the high taxes on corporations, cause too much of the economy's capital stock to be tied up in residential structures and too little in corporate capital."
His (quite reasonable) point is that given the existing tax on corporate capital, it might be a good idea to tax residential capital, even if what we'd really prefer is a world where neither corporate nor residential capital was taxed. (Our commenter Doug raised the same point in comments last week here on The Big Questions.) To put this another way: We currently have too much consumption and too little investment. If we eliminate the mortage interest deduction, fewer resources will go into residential investment. I am pointing out that some of those resources will go to consumption, which is bad. Greg is pointing out that some of those resources will go to more productive types of investment, which is good. To this I have three responses:
Thanks to our system of IRA's, 403(b)'s, 401(k)'s, Keogh plans and the like, a lot of dividends and capital gains are not taxed (though they're still usually implicitly subject to the corporate income tax). So it's not like we're starting from a position where all capital is taxed equally. We've already carved out a bunch of exemptions, and I think that's on balance a good thing.
Sometimes the best way out of the swamp takes you temporarily a little deeper into the mud. The ultimate goal is to eliminate all capital taxation. The mortgage interest deduction effectively eliminates some capital taxation, at the possible cost of diverting capital from more productive uses in industry to less productive uses in real estate. This could well make us worse off for the time being, but if it's the first of many steps in the right direction, that could be a price worth paying.
The strength of these arguments depends partly on the magnitudes of the various distortions involved and partly on your political model of whether steps in the right direction tend to be precursors to further steps in the right direction. At least regarding the former, it ought to be possible to make some useful estimates. Depending on what those estimates show, I could conceivably switch over to Greg's side of this issue.