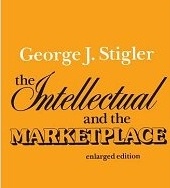 On Monday we marked the hundredth birthday of the Nobel laureate and all-around intellectual curmudgeon George Stigler. I promised more Stigler quotes by the end of the week. Here, then, is Stigler on the consequences of competition in the market for higher education; the passage is from one of the two-dozen lively and provocative essays collected here. If he'd been born just a bit later, Stigler could have been a champion blogger.
For clarity: When Stigler refers to an academic "field", he is referring to a sub-discipline. Economics is a discipline; industrial organization and public finance are fields. Physics is a discipline; particle physics and solid state physics are fields.
We cannot build universities that are uniformly excellent … I shall seek to establish this conclusion directly on the basis of two empirical propositions.

The first proposition is that there are at most fourteen really first-class men in any field, and more commonly there are about six. Where, you ask, did I get these numbers? I consider your question irrelevant, but I shall pause to notice the related question: Is the proposition true? And here I ask you to do your homework: gather with your colleagues and make up a numbered list of the twenty-five best men in one of your fields — and remember that these fields are specialized. Would your department be first-class if it began its staffing in each field with the twenty-fifth, or even the fifteenth, name? You have in fact done this work on appointment committees. I remember no cases of an embarrassment of riches, and I remember many where finding five names involved a shift to "promising young men", not all of whom keep their promises. I leave it to the professors of moral philosophy and genetics to tell us whether the paucity of first-class men is a sort of scientific myopia, a love of invidious ranking, or a harsh outcome of imprudent marriages. But the proposition is true.

My second proposition is that no one school has much in the way of financial resources … No school, not even the richest, has a wages-fund sufficient to hire one of the six best men in each field within the traditional arts and sciences. Fifty or a hundred institutions seriously seek such men, and even the fiftieth in wealth — which is about one-fourth as rich as the first in wealth — can bid enough for one or two such leaders to make them prohibitively expensive to others. The richest museums cannot acquire all the Rembrandts, and the richest school cannot hire all the leaders.

…

Universities will make their peace with the forces of specialization by making a choice that falls somewhere between two poles: a universal mediocrity, at one end; a select and none too lengthy list of truly distinguished departments, at the other. I diffidently interpret the tradition of Chicago to be that which I, too, desire: the preservation of pre-eminence in a dozen of the most durable and basic disciplines, with at least respectable competence in the remainder of the basic disciplines — and nothing more.

…

But the goal of selective eminence cannot be pursued effectively if one ignores its selectivity. The goal cannot be achieved if we fail to be ruthless with proposals to increase our comprehensiveness: it is a fact of life that a vote for a school of journalism or an institute of automation is a vote to get rid of one or two first-class men in physics or anthropology or law. The goal cannot be achieved if we insist that every department be almost pre-eminent: a vote to hire two expensive number-twenty men is a vote to be rid of a number-one man. These are different ways of saying that we must steer the difficult course between easy achievement and romantic impossibility. Some women are not fastidious, and others insist upon marrying only perfect men. I know Chicago will not become a harlot; I do not want it to become a spinster.

I would add a word concerning a very troublesome lot who insist upon intruding into the discussions of their betters — I refer to the students. The student cannot achieve the best possible instruction in every specialized field at any one institution; this I shall now treat as a corollary. Though a student does not study every specialized field even within one department, he would often profit by dividing his time between institutions whose strengths complement one another. There would be much merit in the development, at the graduate level, of spending a half year or a year at a second institution. This practice, you will recall, was prevalent during the fourteenth century; and, on balance, transportation has improved since then (aside from parking). The student would also gain perspective by living in a different intellectual atmosphere, and the professors — for whom things must be good if they are to be good for the country — would also gain by the diversity of students.