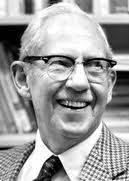 Today is the 100th birthday of the late George Stigler, who won a Nobel prize for his economics and would have won a second if they gave one for dry wit. This is not the best example of that wit, but it's the one I remember most vividly: One day long ago I was walking across the quadrangle at the University of Chicago, when I felt a hand on my shoulder — a very large hand, because Stigler was a very large man (in the tall-and-lanky sense of large). He'd been away for a few months, so I was a little surprised to see him. Before I could say anything like "Welcome back", Stigler asked me: "So, what's become of that young lady you were squiring around before I left town?". In a fit of circumspection, all I said was "Oh, she still exists", and Stigler immediately replied, "Oh, how lovely. You know, I've never been a subscriber to this theory that says you should destroy them when you leave them."
The Intellectual and the Market Place — Stigler's classic defense of the marketplace against the discomfort felt by so many intellectuals — is well worth a quick read. Parts of it have been paraphrased so often by so many imitators that they've begun to seem almost trite, but none of the imitators has ever achieved Stigler's panache. Besides, it's been imitated so much precisely because there's so much here worth saying. A few sample paragraphs to whet your appetite:
Several charges related to the dominance of self-interest have rounded out the intellectual's indictment of the market place:

First, the system makes no provision for men whose talents and interests are not oriented to profit-seeking economic activity.

Second, there are cumulative tendencies toward increasing inequality of wealth, which—if unchecked—will polarize the society into a great number of poor and a few very rich.

Third, the game in the market place is unfair in that inheritance of property plays an immensely larger role in success than the efforts of the individuals themselves.

I shall comment briefly on each of these assertions.

The first charge is true—the market place will not supply income to a man who will not supply something which people want. People have enormously varied desires, but not enough of them wish to hire men to engage in research on ancient languages nor, sixty years ago, did they hire men to study quantum mechanics. The market place does not provide an air force or alms for the poor. It does not even supply babies. I conclude that a society needs more than a market place.

The second charge, that there are cumulative tendencies to ever-increasing inequality of wealth, is untrue. I would indeed ignore the charge for fear of reprimand from the Society for the Prevention of Cruelty to Straw Men, were it not that this strawman is so popular. In plain historical fact, the inequality in the distribution of income has been diminishing, and the diminution has been due to market forces even more than to governmental efforts. It is also worth noting that a modern market economy has a less unequal income distribution than either centrally directed or unindustrialized economies.

The third charge, that inheritance of property plays a dominant role in the distribution of income in the market place, is an overstatement. Inheritance of property is important, but it will give some perspective to the charge to notice that property income is only one-fifth of national income, and inherited property is less than half of all property, so less than 10 per cent of all income is governed by inheritance of property.

No useful purpose would be served by trying to appraise the proper role of inheritance of property in a few passing remarks. We should have to look carefully at the effects of inheritance on incentives; we should have to look at gifts during life, which are almost equivalent to bequests; and we should have to decide whether privately endowed colleges do enough good to offset the inevitable high-living heirs—whether we can have Carleton without having Tommy Manville.
If you have any favorite Stigler quotes, memories or insights, do share them either in comments or by email. I'll post some more of them as the week goes on.