It was said of me in graduate school that "He's never happy unless he's making a list".
My compulsion to make lists has abated over the years, but it lasted long enough that I still find occasional relics lying around.
Recently I ran across the list reproduced below, dating, apparently from my zoology phase, when I was making lists that classified animals according to various criteria. But I was completely unable to recall what criterion had governed this particular list. What rule places the giraffe on the left and the dog on the right?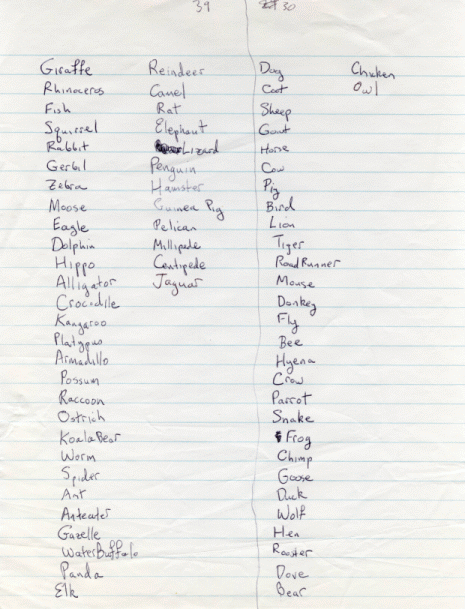 I was pretty sure this would remain a mystery forever, but a small consortium of my brilliant friends proved me wrong. None of these friends had known me back in my zoology days, so they had no memories to go on — just the list itself. To my amazement, they reconstructed the pattern. Your challenge is to do the same.
No fair participating if you are part of that consortium that has already solved the problem, though I'm not sure any of those people read this blog anyway.
My memory is a little hazy, but I think the original project might have been extremely important for science.