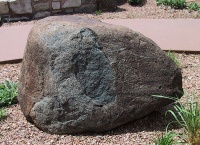 I don't trust rocks. Rocks keep fooling me. They sit there looking all solid until you examine them more carefully and find out they're mostly empty space, with a smattering of charged particles here and there. Then you look a little deeper and find out those charged particles are nothing like they first appeared. They don't even have locations. Rocks, and their constituents, are nothing at all like they first present themselves. But at least they're real. I think.
Now here's what genuinely baffles me: Apparently there are people in this world (and even, occasionally, in the comments section of this blog) who haven't the slightest doubt about the existence of rocks, galaxies, squirrels, and the rest of the physical universe, but who suddenly turn into hardcore skeptics re the existence of mathematical objects like the natural numbers. (Many of these people, I suspect, are in fact affecting skepticism because of a badly mistaken belief that it makes them look sophisticated. But that's speculation on my part, so let's put it aside and take their positions at face value.) I just don't get this. Why on earth would, say, a scientist, commit to the belief that there's a physical universe out there but not a mathematical one, when we know that our perceptions of the physical universe demand constant revision, whereas our perceptions of the mathematical universe are largely eternal. My conception of the natural numbers is very close to Euclid's; my conception of an atom bears almost no resemblance to Demosthenes's.
Every field of inquiry needs a starting point. I venture to guess that most of the natural-number skeptics go through life without seriously doubting the existence of conscious minds other than their own. They can't avoid that assumption, because it explains so much. So does the existence of the natural numbers. We prove a theorem that says that every number is the sum of four squares. We pick a number (say 1350591), we try to write it as a sum of four squares, and lo and behold, we succeed! (In this case, 1350591=4312+2262+10552+272.) In other words, arithmetic appears to be consistent. But to explain this consistency, you pretty much have to believe that arithmetic is about something real — just as, to explain the observed behavior of other people, you pretty much have to believe that there are minds inside those heads. (I'd argue that the case for the natural numbers is stronger than the case for other minds, but the cases are similar in structure.)
Now here's where I expect Bob Murphy to jump in and say: Aha! Yes! And that's also the nature of the case for God! I agree and disagree. I certainly agree that any system of beliefs needs a starting point (e.g. "I think therefore I am"), and that my belief in the natural numbers is a starting point — it's not deduced from anything — just like Bob's belief in God. But here's the thing: Bob also believes in the natural numbers, because he is sane, and because almost no sane person has ever managed to disbelieve in them. They explain too many things that can't be explained without them. Whereas it's easy (trust me!) not to believe in God, because God is quite unnecessary for understanding the Universe. Bob, I anticipate, will say that he needs God to explain the existence of such an intricate structure as the natural numbers. I say quite the opposite: The existence of the natural numbers explains the existence of everything else. Once you've got that degree of complexity, you've got structures within structures within structures, and one of those structures is our physical Universe. (If that sounds like gibberish, I hope it's only because you're not yet read The Big Questions, that you will rush out and buy a copy, and that all will then be clear.)
To put this another way: Bob thinks I should believe in God because that would explain why the natural numbers exist. I believe that the skeptics who show up on my comment pages every now and then should believe in the natural numbers for a great variety of reasons, one of which is that it would explain why the Universe exists. One difference betwen me and Bob is that I think the natural numbers can't help existing, and therefore need no explanation. But the Universe — now that needs an explanation. And because the natural numbers, which I'm already forced to believe in for other reasons, provide that explanation, I have no need of Bob's God.
I've rambled a bit from my main question, so let me restate it: Why and how would anyone be willing to accept the existence of things like physical objects and other minds, while doubting the existence of the natural numbers? Why would you direct a more skeptical gaze at the one thing that hasn't spent the past several millenia presenting false appearances?
| | |
| --- | --- |
| | —-Inspired by some recent back-and-forth with Bob Murphy. For further reading, see some of my own past posts. |