I'm eager to summarize the (largely excellent) discussion of last week's nightmares and to talk about what it all means. I'll surely get to that in the next few days. But meanwhile, we have another loose end to tie up.
I recently asked what comes next in the following series:

The answer, of course, is

Please raise your hand if you found this intuitively obvious.
In case your hand didn't go up, consider the following sequence: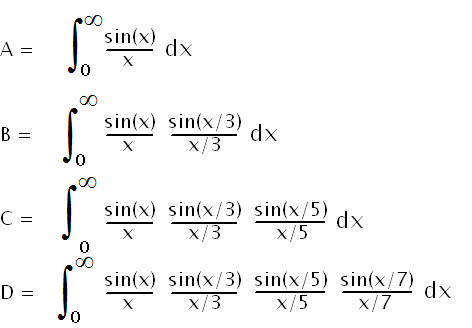 And so forth.
Next time you're stuck on an airplane, you can amuse yourself by attempting to prove that
A=π/2
B=π/2
C=π/2
D=π/2
E=π/2
F=π/2
G=π/2
H=467807924713440738696537864469π/935615849440640907310521750000
Roughly the reason for this is that each integral represents (in a non-obvious way) the intersection of two areas X and Y, where X is the same area for each integral but Y shrinks a little each time you move down the list. Initially X is contained entirely inside Y, so the interesection is just X. This remains true as Y shrinks, and shrinks, and shrinks again, but eventually Y shrinks enough so that it no longer contains all of X, and that's when the integrals start shrinking.
Fun fact: After this was discovered by David and Jonathan Borwein, Jonathan verified that the computer algebra software package Maple reports the correct values for all these integrals — and then, as a practical joke, reported this to Maple as a "bug" in the software. Maple computer scientist Jacque Carette reports that "I must have spent three days on this project before I figured out that Jon had tricked me".
More here.