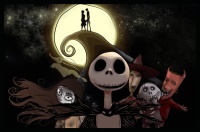 Yesterday's nightmare scenarios triggered some good discussion, so let me throw out another one, which I think will help to isolate some of the issues that came up yesterday. Sometime next week I'll try to summarize the best of the comments and ponder what we've learned.
Today's Dilemma

In front of you are two childless married couples. For some reason, it's imperative that you kill two of the four people. Your choices are:

A. Kill one randomly chosen member from each couple.
B. Kill both members of a randomly chosen couple.

All four people agree that if they die, they want to be well remembered. Therefore all four ask you, please, to choose A so that anyone who dies will be remembered by a loving spouse.

If you care about the four people in front of you, what should you do?
Argument 1. For goodness's sake, they've told you what to do. If you care about them, of course you should respect their wishes. Choose A.
Argument 2.Once the killings are over, Option A leaves two grieving spouses, whereas Option B leaves one relieved couple. Surely two dead plus two happy is better than two dead plus two sad. Choose B.
Which argument do you buy? And what's wrong with the other one?