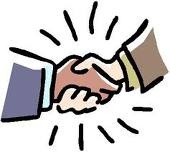 Often, all economists agree that we all agree. We just can't agree about what it is that we all agree on. Now comes the remarkable IGM Economic Experts Panel to shed some light.
The experts in question are a small galaxy of economic stars, some plausible candidates for the Nobel Prize, and all highly regarded throughout the profession. Their political affiliations range from left to right to center to "I hate politics". There are 41 of them altogether. And for several months now, they've been polled about important matters of theory and policy.
The very first survey, going back to last September, asked for responses to the following statement:
All else equal, the Fed's new plan to increase the maturity of its Treasury holdings will boost expected real GDP growth for calendar year 2012 by at least one percentage point.
Exactly 0% of the experts checked "agree" or "strongly agree". 33% were uncertain and 7% had no opinion. (One refreshing thing about these polls is that the respondent's have apparently felt free to respond "no opinion" on matters where they are not well informed. Nobody, after all, can be an expert on everything.) When a statement is endorsed by exactly 0% of 41 distinguished experts from across the political spectrum, you can be pretty sure that statement is false.
This first question, though, strikes me relatively uninteresting, since it refers to a specific policy at a specific moment in time. Let's move on to the next question, which has a bit more staying power:
All else equal, permanently raising the federal marginal tax rate on ordinary income by 1 percentage point for those in the top (i.e., currently 35%) tax bracket would increase federal tax revenue over the next 10 years.
Here exactly 0% either disagreed or strongly disagreed, with 2% (that is, one expert out of 41) uncertain. I think you can be pretty sure this statement is true.
Here's the followup question:
The cumulative budget shortfalls in the US over the next 10 years can be reduced by half (or more) purely by increasing the federal marginal tax rate on ordinary income for those in the top tax bracket.
Here 0% strongly agreed, 2% agreed, and 20% were uncertain.
Peruse the IGM site, and you'll find a remarkable degree of consensus. Freer trade improves productive efficiency and offers consumers better choices, and in the long run these gains are much larger than any effects on employment. The 2008 bank bailout lowered the 2010 unemployment rate. So did the 2009 stimulus. Gas prices are driven primarily by market factors, not by government policies (so stop blaming Obama!). Looser licensing restrictions for nurses and physicians assistants would be good for patients, because the additional safety risks would be small compared to the reduction in fees and waiting time. Rent controls in New York and San Francisco have had no positive impact on the amount and quality of affordable rental housing. Congestion pricing (e.g. charging higher tolls at rush hour) makes people on average better off. And if you want to reduce carbon emissions, carbon taxes are better than fuel efficiency standards.
All of the above statements garnered near-universal agreement among the experts who responded. (Or in some cases, their negations garnered near-universal disagreement.) There's some good news here for Democrats, who will be glad to hear that the stimulus worked (though that's not the same thing, of course, as saying that it was worth the cost) and some good news for Republicans, who will be glad to hear that we can't balance the budget by raising taxes at the top end (though that's not the same thing, of course, as saying that those taxes should not be raised). But mostly there's good news for all of us — the good news is that economists actually know something, and we can make the world a richer and happier place if only we start paying attention.