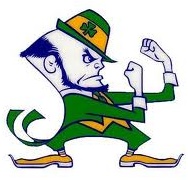 A consortium of Catholic institutions, including the University of Notre Dame, is suing to overturn the Obama administration's contraception mandate. I hope they lose. I think.
The birth control mandate strikes me as a very hard policy to defend, though I've done my part to put together the best possible arguments in its favor. For the record, I do think there's a quite reasonable case to be made for some insurance mandates — primarily with regards to pre-existing conditions and catastrophic illnesses. (There's also a very good case against those mandates, so don't take this as an endorsement!). Those mandates at least address plausible market failures. A contraception mandate pretty clearly fails that test (though see the discussion at the linked post for some reasoned argument to the contrary).
So I believe the mandate is bad policy, both in its specifics and in its general presumption in favor of government power. If this isn't unconstitutional, we need a better constitution. But that's not the basis of Notre Dame's lawsuit. Notre Dame's position, as I understand it, is that Catholic institutions (as opposed to, say, General Electric) should be exempt from the mandate because religious objections (as opposed to, say, financial objections) have some kind of special exalted status. That strikes this non-lawyer as straying perilously close to a law respecting the establishment of religion. And if that's not unconstitutional, then we really need a better constitution.
I would very much like the opportunity to negotiate away much of my health insurance coverage. I am annoyed that my government prohibits this. I'll be even more annoyed if they prohibit it because I am not a Catholic.
So I'm of two minds here. I believe the mandate is a bad thing, and I therefore like seeing it chipped away via special exemptions. (Even that's not cut and dried, because as soon as you start making special exemptions, you create a market for those exemptions, which gives your Congressman one more way to shake you down.) But I also believe that the framers pretty much had it right when they insisted that your fundamental rights should not vary with your religion. All told, then, I think I'm rooting for Notre Dame's lawsuit to go down in flames. But I'm prepared to be swayed by your comments.