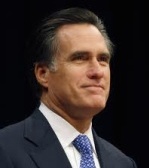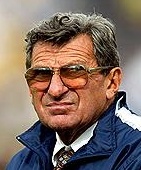 What do Mitt Romney and Joe Paterno have in common? They both devoted substantial fractions of their careers to promoting wasteful competition — Romney at the Olympics, and Paterno at the Penn State football program. How do Mitt Romney and Joe Paterno differ? Romney, unlike Paterno, devote a substantial fraction of his career to promoting healthy competition at Bain Capital.
To understand what's wasteful about Penn State football, think about what life will be like now that the program's been eviscerated. The overall quality of college football will decrease — but not by much. Any titles Penn State might have won, someone else will win instead, and the games leading up to those titles will be almost as fun to watch. But Penn State has reaped enormous rewards over the decades in exchange for its relatively small contribution to the quality of college football — and has plowed a substantial fraction of those rewards back into the program in order to maintain the flow of revenue. In short, Penn State football has sucked up a lot of resources while providing relatively little in return.
That's an exception to the general rule that competitive markets do a spectacular job of matching private rewards to social contributions. The price of an orange reflects what someone is willing to pay for that orange. Orange growers care directly about prices and therefore care indirectly about providing value for consumers. Therefore the market provides neither too many oranges nor too few.
That's not idle speculation; it's the bottom line of a somewhat subtle argument that's in all the economics textbooks. But an argument is only as good as its assumptions, and the assumptions of this argument fail spectacularly when a single champion can serve the entire market — as in football, where there's no limit to the size of the television audience for a winning team, or the Olympics, where there's no limit to the size of the endorsement market for a single gold medalist.
As a result, society is probably overinvested in athletic contests. People love the Olympics (I'm on notice from my wife that I won't be hearing much from her until they're over), and therefore the Olympics ought to exist. But they should probably be scaled down a bit. Cutting out 10% of the competitors would reduce the quality of the spectacle only slightly, while freeing up a lot of resources for valuable alternative uses. Although economic theory provides excellent reasons to believe that markets provide just the right number of oranges, just the right number of cab drivers and just the right number of electrical engineers, it provides no reasons at all to believe that markets provide anything like the right number of championship-level athletes.
This means that long before many of us had ever heard of Jerry Sandusky, we already knew that Joe Paterno had devoted his life to a socially wasteful activity. By winning championships, he redirected a lot of income to Penn State. But redirecting income is not the same thing as creating it. If Paterno hadn't been winning championships, someone else would have.
Now, I don't think we should be too quick to criticize people for responding to the incentives that were handed to them, but I do think there's something unseemly about devoting your entire life to a socially wasteful activity. That's why Paterno's life was not a heroic one, even absent all the recent scandals. And for exactly the same reasons, Romney's tenure at the Olympics was unheroic. The Olympics were already bigger than they should have been, and Romney made them bigger. That's bad. A lot of people got rich, but much of that came at other people's expense.
By contrast, as a venture capitalist, Romney was in the business of creating wealth, not just redistributing it. You create wealth when you nurture firms that survive by fulfilling consumer demand in ordinary (non-tournament) competitive markets. You create wealth when you shut down firms that are swallowing more resources than their output is worth. You especially create wealth when you innovate — whether that innovation takes the form of new technologies or new patterns of trade. You create wealth for consumers when you outsource jobs to more efficient producers.
It's sadly ironic, then, that Romney is being touted as a hero for his socially wasteful years at the Olympics and a villain for his socially productive years as a capitalist. Should we blame the schools?