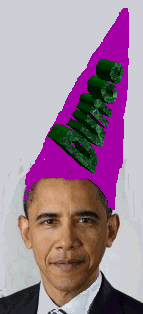 This morning I heard President Obama call for universities to lower their tuition rates so that "everybody in America can go to college".
I am virtually certain that the President is not stupid enough to think that if tuition rates fell to zero, there would magically be enough room in the colleges for everybody in America. So I've got to believe that he's purposely saying stupid things in order to appeal to stupid voters — the sort of voters, in other words, who probably don't belong in college.
To believe what the President wants you to believe, you'd have to be not just stupid but badly misinformed. At the University where I teach, we do not lack for applicants. The reason we don't have more students is not that they can't afford us; it's that we don't have room for them.
The President's proposal would make sense if universties were ordinary monopolists, artificially restricting enrollments in order to keep prices high. But universities, insofar as they are monopolists, are by no means ordinary — they are price-discriminating monopolists — and extraordinarily effective ones at that.
Every year, I tell my Principles students with confidence that "You and the student on your right are probably not paying the same tuition rate". Universities have detailed information on students' academic records (which tells them where else those students are likely to be admitted) and detailed information on student's (and their family's) financial statuses. They exploit this information to tailor individual aid packages.
That's important here, because, unlike an ordinary monopolist, a good price discriminator doesn't leave seats in the classroom unfilled just to keep prices high. Instead, the price discriminator fills empty seats at bargain prices while still keeping prices high for those who are willing to pay full fare.
The implication, then, is that we're already operating at full capacity (in the sense that we've already got as many students as we want). Given that, you can't send more people to college without creating more capacity, and lowering prices is not a recipe for creating more capacity.
It has always struck me as unfortunate that there's only one Hearst Castle. If only they'd lower the price, then everybody could have one. If a President of the United States made that argument, you'd be entitled to suspect that he's insincere — and to wonder what he expects to gain by playing the dunce.