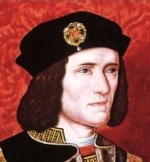 With Richard III much in the news lately, I've been inspired to reread Paul Murray Kendall's excellent biography of the king (Kindle edition here). Here's a little tidbit I learned from that book:
In early 1464, with Lancastrian rebellions breaking out all over England, King Edward IV found it prudent to raise an army. He therefore dispatched "commisions of array" to the twenty-two counties of southern England, each charged with rounding up the able-bodied men of the county and turning them into an army. In most cases, the county commission consisted of a half dozen or more men, including one great magnate. But Richard, Edward's brother, inspired so much trust that he was appointed sole commissioner for nine counties — everything from Shropshire and Warwickshire through Somerset to Devon and Cornwall. Richard, in other words, was solely responsible for levying troops from a quarter of the realm. He was not yet twelve years old.
This makes me believe that my seventeen-year-old stepdaughter has too few chores.
Click here to comment or read others' comments.