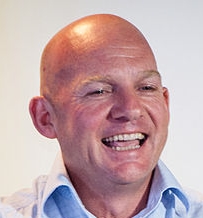 If you like The Big Questions, you really ought to know my brash and brilliant friend Jamie Whyte. After a brief but dazzling career as a philosopher at Cambridge university (he once won the prestigious Analysis prize for the best article by a philosopher under 30), Jamie distinguished himself as a management consultant, a foreign currency trader, and, via his frequent writing, an incisive and steadfast defender of rational thought and individual freedom. His little book on Crimes Against Logic delivers brilliantly on its promise to "expose the bogus arguments of politicians, priests, journalists and other serial offenders", and his recent collection Free Thoughts (which, true to its title, you can read for free) is essential fare for anyone who cares about clarity of thought — or, because Jamie is as funny as he is brilliant, anyone who's just looking for a good chuckle.
Now, in his most startling career twist yet, Jamie has become the leader of a political party in his native New Zealand — the ACT party, named for its forerunner, the Association of Consumers and Taxpayers. ACT stands unabashedly for individual liberty, the rule of law and the enforcement of well-defined property rights. It campaigns against corporate welfare. It's even pro-immigration. And thanks to New Zealand's system of proportional representation, it actually gets representatives into parliament.
After several years of turmoil, the party turned to Jamie's leadership in February of this year. With the boundless energy that inspires awe in everyone he meets, Jamie is re-building the party and promoting a principled free-market agenda in the run-up to the September 20 general election.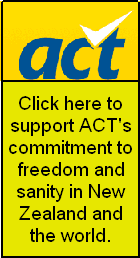 The downside of being a principled politician — and the reason they're almost vanishingly rare — is that it's hard to raise funds when you won't cater to special interests. ACT opposes both corporate welfare and legal favoritism for union members, which cuts out most of the usual big donors. Here's where you can help, and I hope you will.
Never before (and, I expect, never again) have I encouraged my readers to support any political party with their votes, let alone their dollars. That's because I've spent my adult life being seduced and abandoned by politicians who talked a good game and then caved in to expediency when the chips were down. But Jamie — and therefore ACT — is different. I know him as a friend, and I know that principles are his passion.
You can help make ACT's vision a reality by visiting the donation page and giving generously. Remember that a New Zealand dollar is worth about 88 cents U.S., so if you're an American, a "$100 donation" is actually $88.
A little more background on New Zealand:
New Zealand has often led the world in public policy. At the beginning of the 1980s, the New Zealand economy was far more socialized than the U.S. or British economies, but by the end of the decade, free market reforms had gone far beyond anything contemplated by Reagan or Thatcher. Newt Gingrich and his "Contract with America" colleagues visited New Zealand in the early-90s for inspiration.
Over the past decade, New Zealand's public policy has slid sadly backward. Jamie and ACT are out to get it back on the right track. New Zealand is a small country (pop 4.5 million) but, because it is both developed and English-speaking, it gets a lot of international attention and can serve as a prominent good example for others to follow. Please help!!