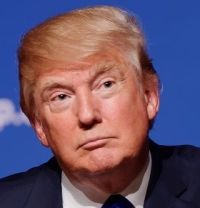 Following the latest round of drivel from Donald Trump, this might be a good time to review the standard textbook case for free trade. (You'll also find this spelled out in The Big Questions .)
Suppose American manufacturers sell 1000 widgets a year to American consumers at a price of $9 each. Now, thanks to a new free trade agreement, foreign manufacturers can sell widgets to American consumers at $6 each. Let's try to account for all the different ways that Americans are affected.
1. American manufacturers have two choices: They can match the foreign price of $6, or they can go do something else. If they match the foreign price, they lose $3 per widget (compared to what they were making before). If instead they go do something else, they lose at most $3 per widget. We know this, because they always have the option of matching the foreign price and therefore won't choose any option worse than that. Therefore, the loss to American manufacturers is at most $3000. (In fact, under very mild assumptions, which almost always hold, the loss is surely less than $3000, but we won't need to know that here.)
2. Existing American consumers — the ones who were going to buy those 1000 widgets anyway — pay $6 per widget instead of $9 per widget, and therefore collectively save $3000.
3. Some Americans who were unwilling to buy widgets at $9 will happily buy them at $6, and will be happy with their purchases. This is an additional gain to Americans.
Bottom line: American producers lose at most $3000. Existing American consumers gain $3000. New American consumers gain something too. Therefore the gains to Americans must exceed the losses to Americans.
Bottom line, restated: If you stand in the way of a free trade agreement, you will surely do more harm than good to American citizens.
Note that all of this completely ignores the effects on foreigners. If you care at all about those foreigners, their gains are icing on this cake.
This isn't rocket science. It is Economics 101. Occasionally politicians pretend they're too dense to understand it. I suspect Trump might be the rare exception who doesn't need to pretend.