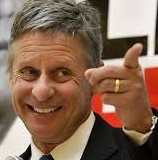 The following analysis assumes (as seems likely) that Trump has won Minnesota, Michigan, Arizona and Alaska, while Clinton has won New Hampshire. This gives Trump a total of 316 electoral votes, or 46 more than he needed.
Gary Johnson's vote share exceeded the Trump/Clinton margin in 10 states, 6 of which (with a total of 38 electoral votes) were won by Cliniton and 4 of which (with a total of 75 electoral votes) were won by Trump.
Therefore, without Johnson in the race (and assuming that his absence wouldn't have switched any Clinton voters to Trump voters or vice versa), Trump might have won as few as 316-75=241 electoral votes (making Clinton the president-elect) or as many as 316+38=342.
From there, you can draw your own conclusions.
Click here to comment or read others' comments.