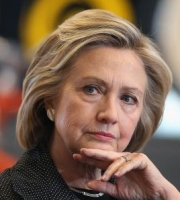 For your consideration:
I submit that Hillary Clinton lost because she did not make even a minimal effort to make herself palatable to people like me — people who care primarily about economic growth, fiscal responsibility, limited government, individual freedom and respect for voluntary arrangements.
Because I care about those things (and for a number of other good and sufficient reasons), there was never a chance I would vote for Donald Trump. I gave money to Jeb Bush. Then I gave money to Ted Cruz. Then I gave money to the "Never Trump" movement that was trying to foment a revolt at the convention. Then I gave money to pro-growth Senate candidates. For me, the only remaining choice was between voting for Clinton and not voting for Clinton. (I also considered sending her money.)
I knew that if I voted for her, I'd never feel good about it. That was too much to ask. But I'd still have voted for her, if only she hadn't gone out of her way to make me feel awful about it. And that she just would not or could not stop doing.
Every time I listened to her recite the litany of reasons not to vote for Trump, I cheered her on. But she seemed incapable of getting through a speech without veering off into the loony-land of free college and unfree trade. Most disturbingly — partly because it was most disturbing and partly because she harped on it so often — was the glee with which she looked forward to rewriting other people's labor contracts and vetoing their voluntary arrangements. Do you want to accept a wage of less than $12 an hour in exchange for, say, more on-the-job training or more flexible work hours? Hillary says no. Do you want to forgo parental leave in exchange for, say, a higher salary? Hillary says no. And on and on.
(You could, of course, say that Clinton wants you to have both the parental leave and the higher salary. Unfortunately, while I believe that Donald Trump is dumb enough to believe that's possible, it is not plausible to me that Hillary Clinton is dumb enough — or uneducated enough — to believe it's possible. Workers are, after all, paid their marginal products, and if you force firms to pay them more than their marginal products, the difference comes out of the return to capital, which means nobody will invest in those firms and the firms won't exist anymore. That, as Paul Krugman so loves to say, is Economics 101. So either she's an unrepentant demagogue catering to supporters she hopes are that dumb, or she really does want you to have the parental leave in lieu of the higher salary, just because that's what she chose for you, your own preferences being quite irrelevant.)
I could have voted for her despite all of that if she had just done two things. First, make some kind of argument for these policies — some argument based on some kind of market failure — some argument based on exeternalities or asymmetric information or some other reason why the usual market forces might not do their usual good job of bringing forth optimal labor contracts. I'm not sure what that argument would be, but if you've got one, I'll listen. Even if it strikes me as a bad argument, I can still vote for you (given the alternative) as long as you show me you're at least capable of thinking about this stuff. Otherwise, as far as I can tell, you're utterly unconstrained by reason, in which case you're likely to try to implement whatever bad idea pops into your head the next time you wake up in the morning.
And second, at least acknowledge that there is something troubling about telling other people what they're allowed to negotiate. Go ahead and argue that although the heavyhandedness troubles you, you still, with some reluctance, think the heavyhandedness is justified because of X,Y and Z. Again, I don't have to agree with X,Y and Z. I just have to have some indication that you're not an insane power-crazed robot who just loves telling other people what they can and can't do, in pretty much random ways, and without a shred of hesitation.
Give me that straw to grasp and I can vote for you. I literally yelled this at the TV screen more than once. But she offered no hope. She seemed not even to realize that anyone might be desperately seeking that kind of hope. So I, and I'm sure others like me, didn't vote for her (despite listening to her speeches, right up to the end, hoping she'd hand me some thin reason I could take into the voting both).
It wouldn't have taken many of us to make the difference.