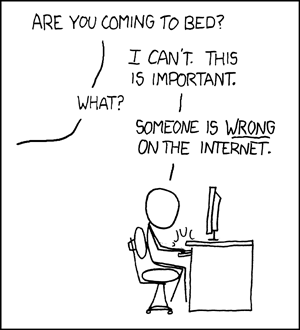 It has been said of Lubos Motl that he's hard to ignore, but it's always worth the effort. I will, soon enough, take this advice to heart. But not quite yet. Lubos's penchant for twisting other people's words, just so he can have something to argue about, is well known and widely remarked. As his most recent victim (though "victim" is of course too strong a word, no actual harm having been done), I thought it would be both fun and instructive to challenge him to a bet. True to form, he continued to bluster but of course refused to back up his misrepresentations with actual cash.
Now of course Lubos will say that it is I who am twisting words, and in particular that I either "changed the question" or "changed the answer" (or both) between the original post and the offer to bet. That, however, won't wash, since I've agreed, as part of the terms of the bet, to let an impartial panel of statistics professors determine the answer to the question as it was originally posed. So even if I had changed the question (which I haven't), this would prevent me from getting away with it. (And no, I haven't changed the answer either. If Lubos claims I have, we can put that to the stats profs also.)
I'm feeling annoyed enough to say a little more along these lines, but first I'd like to make it crystal clear that my annoyance does not extend to readers who are still puzzling this out. The problem with Lubos isn't that he's got it wrong; it's that he's not the least bit interested in getting it right. A few particulars:
I asked the question "In a certain country…what is the fraction of the population that is female?", with a specification that the question was to be answered in expectation. Many — I daresay most — intelligent people get this wrong at first, because they observe (correctly) that the expected difference between boys and girls is zero and then jump to the unwarranted (and false) conclusion that the expected ratio is one. I made this mistake myself when I first saw this problem, as did Lubos. Once I understood it, my twin reactions were "Cool! I just learned something!" and "I'd like to share this cool thing with other people". Lubos's reaction was to claim he'd been cheated.
The correct expected ratio depends on the number of families in the country. For the simple case of a one-family country, it's 31%. Here's what Lubos wrote:


You may explain the lower result of 31% obtained previously as an artifact of the selection bias — that we have only considered the `completed families' that have already received their son.

But in fact Lubos's preferred answer of 50% is wrong whether or not you restrict your attention to completed families, and my offer to bet explicitly allows Lubos to decide whether he wants to restrict attention to completed families or not — I will win either way. Why would he have made this completely false and indefensible claim? Apparently, he just throws things like this out without making any prior effort to check them. Lubos has now switched to defending himself on entirely different grounds, which suggests that he's figured out he was dead wrong about this one. But he's never acknowledged that.

Lubos's latest defense is to convert the problem from "What, in expectation, is the fraction of female births?" to "What is the probability that a given individual is female?", and to pretend that I both asked and then got the wrong answer to the latter question. In fact my "Big Answer" post points out quite clearly both that the answer to this latter question is 50% and that it is not the question I am asking.
Lubos now compounds his dishonesty by accusing me of changing questions (and/or answers) midstream. This ignores the fact that I never changed the question (and/or answer). This is largely because, unlike Lubos, I try to think carefully about things before I post them, so, though I sometimes make public mistakes, I don't make them nearly as often as he does. It also ignores the fact that if I did change the question, he will win the bet, since the original question is what we'll be adjudicating. My offer (still outstanding) is to bet on the original question in its original wording, as interpreted by a panel of statistics professors from top universities. So when Lubos says that I've changed the question, he is, in a word, lying.
If it seems I am being particularly hard on Lubos, it is because a) he deserves it (not just for this incident but for a lifetime pattern) and b) because I'm feeling a little frustrated after seeing some of the same mistakes repeated in comments by people who obviously never digested the original post, or never noticed that their objections had already been answered. Of course I realize that some of this is inevitable because commenters can't be expected to have digested several hundred previous comments over three separate threads. So let me make this easier by listing some of the most frequently asked (and answered) questions. If you have questions or objections to raise, please check this list before adding a repetitive comment that others will have to slog through.
You've raised a question about the fraction of girls in the average country, but answered it only for the average family. This is sleight of hand. No, read more carefully. The answer is (approximately) 30% for a single family. It is therefore also 30% for a country with one family. It is some other percentage for a country with two families, and some other percentage for a country with three families, et cetera, but it is never 50%.
Your calculation only works if all families have reached completion. Otherwise the answer is 50%. I've given the calculations in the case where all families have reached completion. These calculations certainly need to be slighlty modified otherwise, but the answer will still never be 50%. The assertion that you can get the 50% answer this way is, as far as I can tell, something that Lubos and his ilk have pulled out of their asses. Not only is it false, but they've never given the slightest reason to believe it — which suggest that they've known perfectly well that they were blustering.
You asked about the fraction of girls in the population, which we can write as G/G+B. Then you said you wanted to take an expectation. A perfectly reasonable interpretation of that is to replace each variable with its expectation, giving E(G)/E(G)+E(B). That's 50%. That's 50%, but it's not a perfectly reasonable interpretation. By analogy, suppose I ask you to add 3 plus 4 and then square the result. You answer that the result is 25, because 32+42 is 25. I say, "No, I told you to first add, then square — not to first square and then add. You respond that you squared and you added so your interpretation was perfectly reasonable. Then if you are Lubos, you accuse me of changing the question. But "first square and then add" is not at all the same as "first add and then square". Neither is "first take expectations and then take ratios" the same as "first take a ratio and then take the expectation".
By insisting that we take the original question literally, you are playing a silly word game. It's nitpicky to insist that we do things in the order you specified. But the entire point of the puzzle — the key interesting fact that we learn from this puzzle — is that the order matters. The expected ratio (which is less than 50%) is not the same as the ratio of the expectations (which is 50%). To blur this distinction is to render the puzzle completely pointless.
The correct answer, according to you, is approximately 1/2 – 1/4k, where k is the number of families. When k is large, that's approximately 1/2. So 1/2 is almost exactly the right answer, and you're just quibbling over tiny differences. First of all, our commenter Thomas Bayes has pointed out quite eloquently in these threads that the 1/4k difference can be of great practical importance. But more importantly, Lubos's argument gets the (approximately) correct answer for entirely the wrong reason. It is a fluke. It is as if Lubos were to say "Well, everyone has exactly two eyes; therefore the answer is 1/2″. You get no credit for a completely bogus argument that happens to accidentally get the answer right (though in this case it gets it only approximately right!). And many of the arguments that have come up in comments are exactly in that category.
But according to my simulation….. If you simulated a country with a large number of families, then the correct answer is close enough to 50% that your simulation probably can't tell the difference. If you simulated a country with a small number of families and got 50%, then your simulation is wrong. This is a simple math problem, and simple math gives the right answer. I have offered to settle bets via competent simulations only because I know there are people out there who don't trust simple math. But they should.
I'm probably forgetting two or three other oft-repeated errors, but those are some of the main ones. I hope this list will be useful to people who are still sorting these issues out.
Meanwhile, many thanks for the hundreds of useful and insightful comments. I've singled out Thomas Bayes, whose insights have been amazing (including his wonderful Taylor series approximation to the correct answer). I should also mention our commenter Tom, who stunned and delighted me by discovering, contrary to all my expectations, that E(G/G+B-1) is exactly 1/2. As Thomas Bayes points out, this is a real problem for the commenters who insist that E(G/G+B) is 1/2. These experessions can't be equal.
Finally, a word about the status of the bets. There is, at this point, real money on the table. Additional bets might still be coming in. Next week, I'll post an update on these.